April 10, 2019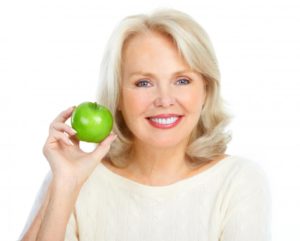 Dental implants in Fresno are the most reliable way to replace missing teeth, and they have a 95% success rate. Although it's unlikely to have a loose fixture if it's properly cared for, you need a plan of action for how to effectively respond if this happens. Thus, a local implant dentist explains what warning signs to lookout for and how the problem can be corrected.
How is a Dental Implant Secured?
Made from high-grade titanium, a dental implant is a rod that is surgically inserted in the jawbone that mimics the natural function of a tooth's root. The implant is secured by the jawbone fusing with it through a process called osseointegration.
While this results in the most stable form of tooth replacement available, if certain circumstances are in place, the implant can unseat and eventually dislodge.
What Can Make a Dental Implant Unseat?
Here are some of the typical contributors to a dental implant becoming loose:
Bone loss
Untreated advanced gum disease
Untreated bruxism (teeth grinding)
Tobacco usage that results in an infection
Using the mouth as a tool to pry open packages
Attempting to eat hard items like certain types of nuts and candies
The Warning Signs of a Loose Dental Implant
If your implant is loose, you may notice things like pain when you bite down, visible bone loss, bleeding or discoloration around the treatment area. At the first sign of any of these issues, you should immediately reach out to your implant dentist to be examined.
What Can be Done for a Loose Dental Implant?
When you visit your dentist, your restoration and implant will be carefully assessed. Here are the two ways the problem can be fixed.
Cleaning Beneath the Restoration
Once the crown is removed, your dentist will thoroughly clean the site and inspect the dental implant to determine whether another surgery is needed, or if the fixture just needs to be tightened.
Removing the Implant
If it's determined that re-fastening the implant won't be sufficient, then the other option is for the entire structure to be replaced. If this is the necessary route, then you and the professional will discuss the best way to approach the surgery to ensure you have a successful outcome.
This will include reviewing the proper way to care for the new implant after it's placed.
How to Protect Your Dental Implant
A general rule to keep in mind when caring for your dental implant is to treat it like you would any other tooth. That means it's still necessary to brush and floss at least two times a day to prevent the growth of bacteria that can eventually seep beneath the implant and lead to problems like gum recession and bone loss.
So although there is the possibility of a dental implant failing, the good news is with the expert care of your dentist in Fresno and a responsible maintenance approach, you can enjoy a beautiful smile for years to come!
About the Author
Dr. Byron L. Reintjes earned his dental degree from the Case Western University School of Dentistry. Throughout his career, he has remained committed to providing the best patient experience and oral health possible. Dr. Reintjes successfully places dental implants at his private practice, and he can be reached for more information through his website.
Comments Off

on Here's What to Do for Loose Dental Implants in Fresno
No Comments
No comments yet.
RSS feed for comments on this post.
Sorry, the comment form is closed at this time.