Dental Implant-Retained Dentures – Fresno, CA
Focused on
Aesthetic & Function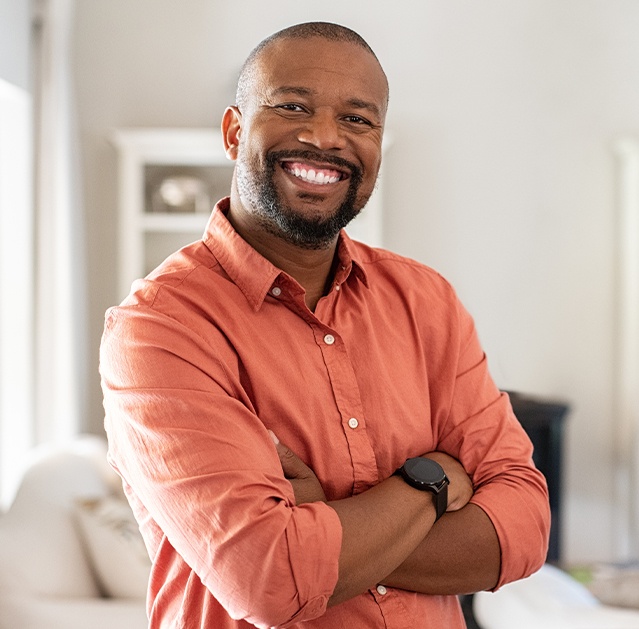 Missing most or all of your teeth is a problem that most Americans are familiar with. According to the American College of Prosthodontists, about 40 million adults are suffering from the effects of this oral issue. Many patients feel forced to turn to traditional restorative treatments that don't fit their active lifestyle because they aren't aware of the latest advanced solution, called dental implants. Dr. Byron Reintjes feels as though his patients should never have to settle for dental treatment that isn't the perfect fit for them. That's why he offers a service that rebuilds the entire structure of missing teeth, starting with the roots. To learn whether you're a good candidate for dental implant-retained dentures from our dentist in Fresno, CA, contact our dental office team today!
Why Choose the Fresno Family Dental Office of Byron L. Reintjes, DDS for Dental Implant-Retained Dentures?
Fully Customized and Fitted Dentures
Highly Experienced Implant Dentist
State-of-the-Art Dental Technology
How Do Dental Implant-Retained Dentures Work?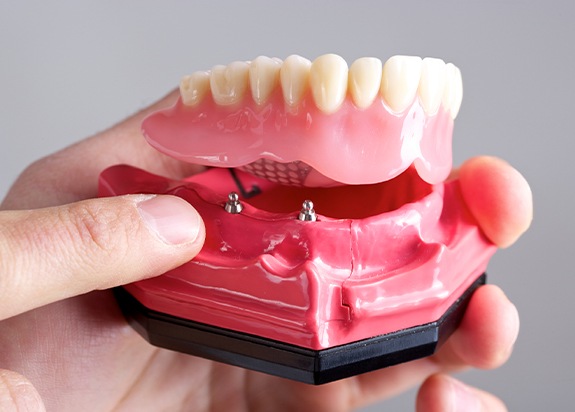 Similar to traditional dentures, implant-retained ones have a gum-colored acrylic foundation that holds natural-looking prosthetic teeth. The replacement teeth are usually made from strong, high-quality materials such as porcelain or ceramic because they're able to mimic the appearance of natural enamel. Instead of a bulky gum base, implant-retained denture bases are smaller, because they don't have to utilize natural suction to stay in place.
Candidates for
Dental Implant-Retained Dentures
If traditional dentures aren't the right choice for you or you're searching for the best tooth-replacement option since losing an entire arch or all of your teeth, you may be a good candidate for dental implants in Fresno. Our ideal candidates typically:
We may also suggest preparatory procedures such as bone grafts and periodontal disease therapy for patients before we schedule their dental implant placement. The best way to know whether you're a good candidate for the procedure is to schedule a consultation.
Have healthy gums.
Aren't pregnant.
Are adults who have fully developed jaws.
Don't have autoimmune diseases.
The Dental Implant-Retained
Dentures Procedure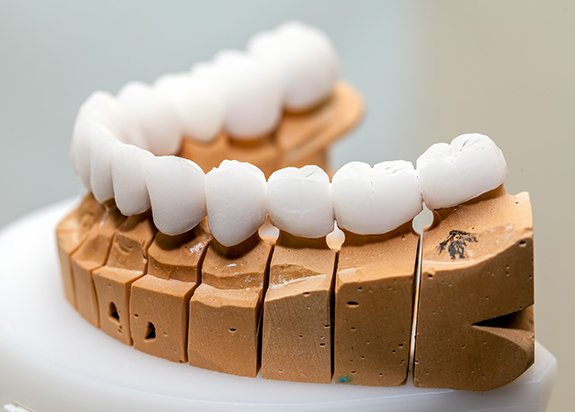 Using the images and information that we collect during your initial consultation, we'll be able to help you determine whether dental implants are the right solution for you. After your surgery, we'll temporarily fit you with dentures in Fresno so you can still eat, speak, and smile with confidence until your permanent ones have been placed. After your posts have naturally fused with your jawbone, we'll secure your permanent restorations to your dental implants so you can enjoy a completed and revitalized set of pearly whites.
Benefits of Combining Dentures & Dental Implants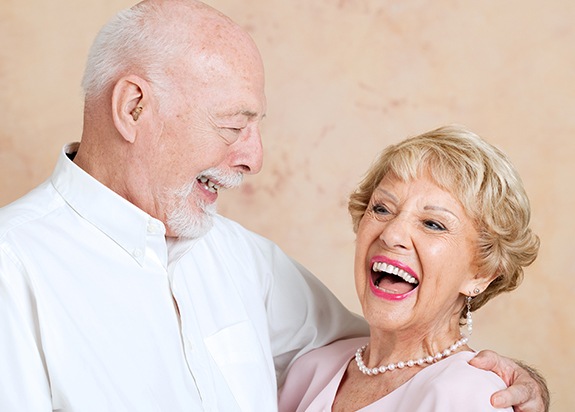 Dental implants in Fresno come highly recommended by patients and professionals alike because they offer a variety of unique advantages compared to traditional dentures. These benefits include:
With the proper care and maintenance, your new smile will be able to last you up to 35 years. Plus, our team of experienced dental professionals will be by your side the entire way, ensuring that you get the top-notch care that we take pride in providing each one of our patients. If you're debating about restoring your smile with dental implants, don't hesitate to contact our dental office to learn more!
95 percent success rate.
Completely natural look and feel.
Restored biting force.
No slipping or shifting while eating and speaking.
Preserved jawbone density.
Preserved facial structure.
Easy maintenance.
Extended lifespan.