Dentures – Fresno, CA
Helping You
Smile Again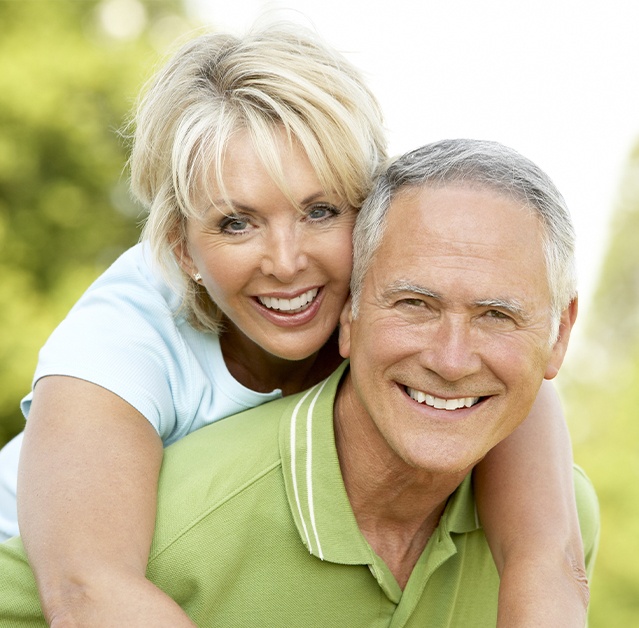 Dentures have been restoring smiles of all shapes and sizes for hundreds of years. Even with the numerous advancements in dentistry, many patients prefer traditional dentures over other more modern solutions. Today's dentures are customized to fit perfectly in each patient's unique mouth. You can count on Dr. Reintjes and the rest of our team at the Fresno family dental office of Byron L. Reintjes, DDS to ensure that you get the best fit possible. Call us today to schedule an appointment to begin the process of designing your new grin with custom full and partial dentures in Fresno, CA!
Why Choose the Fresno Family Dental Office of Byron L. Reintjes, DDS for Dentures?
Dental Implants Offered
In-House
High Quality
Customer Service
Various Dental
PPOs Accepted
What Are Dentures?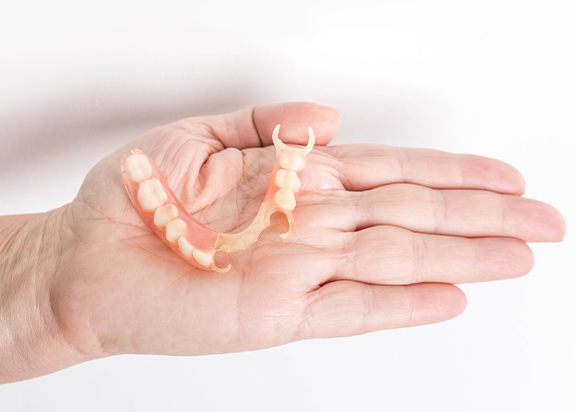 Arguably the most well-known method of tooth replacement, dentures have been used to restore smiles to full function for centuries. Thanks to the advancements made in modern dental technology, today's dentures are more comfortable and lifelike than ever before. Depending on your oral health needs, you may receive:
Full dentures: An entire arch of artificial teeth sit on a gum-colored acrylic base. This base attaches to your gums with natural suction or denture adhesive.
Partial dentures: Partials are specially customized prosthetics to replace missing teeth in specific areas of your mouth when you still have some pearly whites remaining. They're secured with a metal clasp that fits behind your natural teeth.
Implant-retained dentures: A full or partial denture can be anchored onto dental implants or small titanium posts, that fuse to your jawbone and act as replacement tooth roots. These dentures are far less likely to slip, and they restore more of your chewing power than conventional dentures alone.
Who's a Good Candidate for Dentures?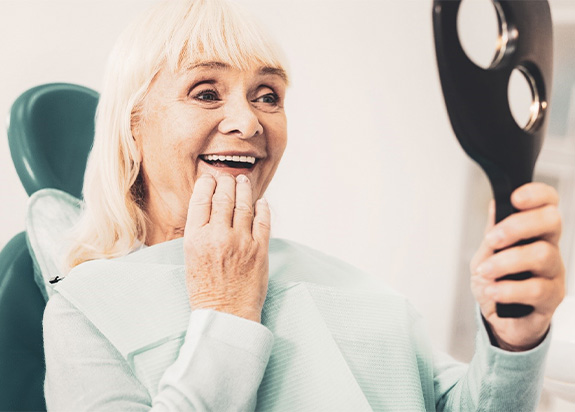 Overall, denture treatment doesn't have rigorous requirements. Almost anyone who suffers from tooth loss can qualify for it. That said, you'll need to consult with Dr. Reintjes to know for sure. He and his team will settle whether you're a good dentures candidate. Even if you aren't, don't worry; you can qualify later through preliminary dental work. Alternatives to dentures are also a viable option. To learn more, just keep reading or call our office for the details.
Effects of Missing Teeth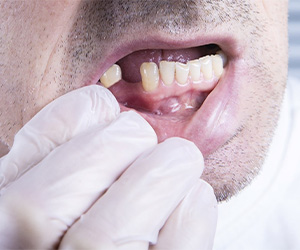 Given how dentures work, it's best to review tooth loss' causes and effects. This step will help you see what treatment can offer.
Tooth loss doesn't have only one cause; various things can trigger it. Sometimes, teeth may decay to the point they fall out or need to be pulled. In other instances, a patient's gum infection might wear down the ligaments that keep a tooth in place. It's also possible for teeth to get knocked out due to accidents and sports injuries.
Despite their many possible causes, missing teeth have limited but severe effects. The most obvious is that various everyday tasks – especially eating, speaking, and smiling – become harder. Smile gaps that erode your jawbone are yet another result. (Over time, this erosion can lead to facial collapse.) Even worse, those gaps can also cause other teeth to fall out.
What Qualifies You for Dentures?
As mentioned before, nearly anyone with missing teeth can qualify for dentures. Beyond tooth loss, though, there are other factors to consider.
Take oral health, for example. Dentures will only work if the patient has healthy gum and jaw tissue. As such, a good treatment candidate is necessarily committed to oral care. The state of your remaining teeth also plays a role in the procedure. As it turns out, you could get dentures to replace sensitive or decaying ones.
Furthermore, you ought to confirm how many teeth you've lost. The number will determine whether you need a partial or full denture. Per its name, the former kind only replaces a few teeth. The second, however, restores all the pearly whites along the upper or lower arch.
Lastly, it's best to examine your budget as well. Since dentures are cheaper than other restorations, they're ideal for patients who want low-cost care.
Alternative Tooth-Replacement Options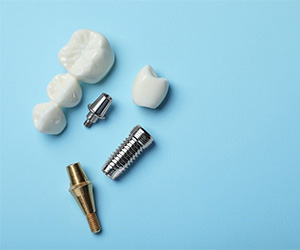 It's not the end of the world if you aren't a good dentures candidate. Here at Dr. Reintjes' office, our team offers several other tooth-replacement treatments. The most common of these are:
Dental Bridges – Being a fixed restoration, a dental bridge is made of crowns fused to a pontic. The appliance uses surrounding teeth for support, only replacing a few pearly whites at a time. It'll destabilize as it extends and restore more teeth.
Dental Implants – Unlike other replacement teeth, dental implants are placed directly in the jawbone. They rely on titanium bases to gradually fuse with the patient's jaw. In exchange, though, implants depend on healthy bone tissue to work. They can also get a tad expensive.
Learn More About Dental Bridges
The Process of
Getting Dentures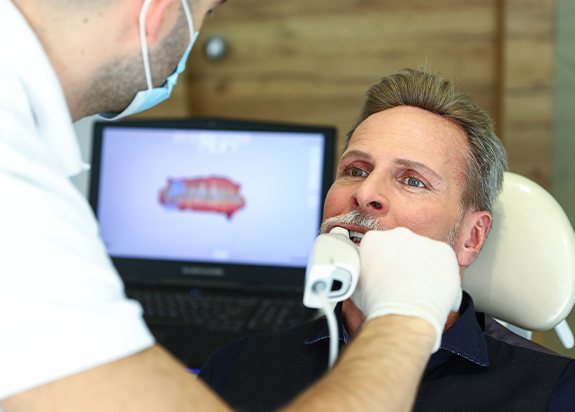 Once your dentist in Fresno has determined that you're eligible for dentures, we begin the process by performing any tooth extractions that are necessary. We then take impressions of your mouth, which we use to create a mold. This mold is sent to a local dental lab, where they'll design your new teeth to comfortably fit your mouth. You'll return to our dental office a few weeks later to have them fitted.
If you're getting implant-retained dentures, the process is a little different. The dental implants need to be surgically placed into your jawbone, and then your mouth will need the next three to six months to heal. Once this process of integration is complete, the implants should be more than stable enough to support your full or partial denture.
Benefits of Dentures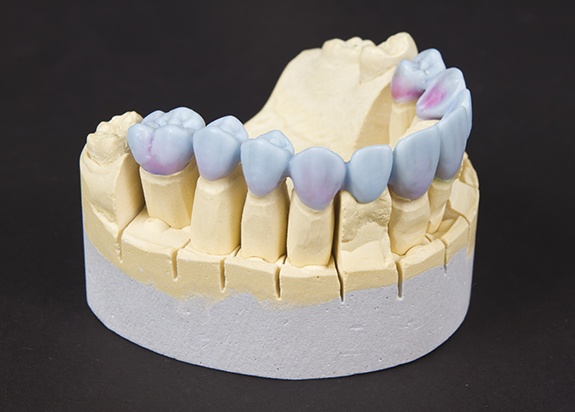 Some of the numerous benefits you can enjoy by replacing your missing teeth with dentures include:
Improving your appearance and boosting your self-esteem
Giving your facial muscles the support they need to prevent premature drooping and wrinkling
Being able to speak more clearly
Restoring your ability to chew your favorite foods
Enjoying easy cleaning and maintenance
Having a smile that can last for decades with dental implants
Understanding the Cost of Dentures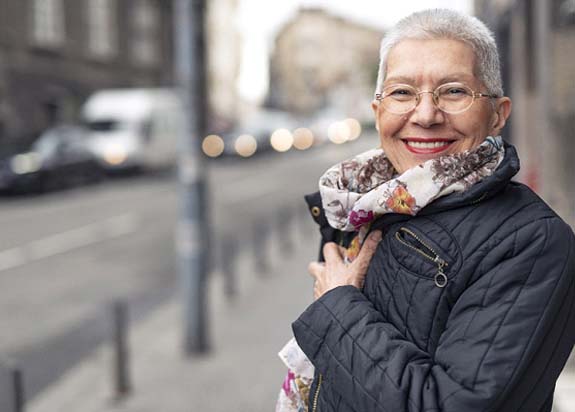 Just like any dental restoration, the cost of dentures varies from patient to patient. During your initial consultation with Dr. Reintjes , you will talk about your unique case and what exactly you can expect to pay for your new dentures. In the meantime, here are a few things to consider so you can better understand the cost of dentures in Fresno.
Factors that Affect the Cost of Dentures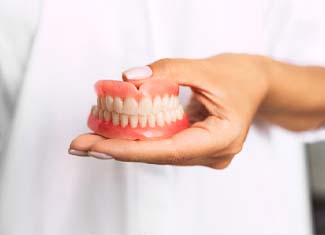 There are many factors that will contribute to the cost of your dentures. Here are just a few of them:
The preparatory work that you will need before getting dentures, like tooth extractions or gum disease therapy.
The materials that your dentures are made from, which can include porcelain or acrylic.
The number of teeth that you are needing to have replaced.
Keep in mind that just because a denture is cheaper does not mean that it is equal or better. Budget dentures tend to break more easily and require replacement much sooner than you would expect. When it comes to your oral health, quality dentures are a worthwhile investment.
Are Implant Dentures More Expensive?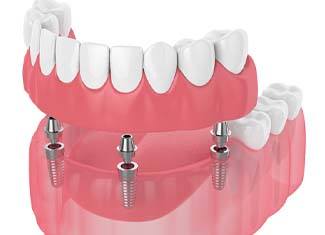 Implant dentures do have a higher cost than traditional dentures because they require oral surgery and the placement of multiple dental implants. However, they have many advantages. Implant dentures are more stable and longer lasting than their traditional counterparts. They also help to stimulate the jawbone, therefore preventing bone loss in the future.
Does Dental Insurance Cover Dentures?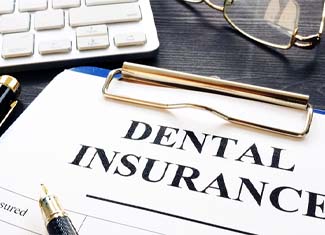 In the majority of dental plans, you can expect some level of coverage when it comes to dentures. Many provide up to 50% coverage, but this varies from plan to plan. Our practice is happy to accept most major dental insurance plans, and our team will handle the entire claims process from start to finish to ensure that you are fully maximizing your benefits.
Other Options for Making Dentures Affordable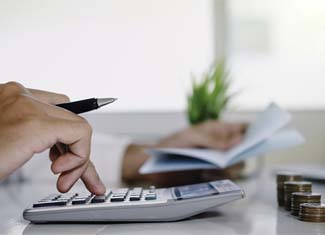 If you don't have dental insurance, you aren't completely out of luck. We can help you to break your cost into reasonable monthly installments through CareCredit, a third-part financing company. With budget friendly payments and little-to-no interest, paying for your treatment can be made more manageable.
The best way to know exactly how much your dentures will cost is by scheduling an initial consultation with us. We are eager to help you achieve a fuller smile!
Dentures FAQs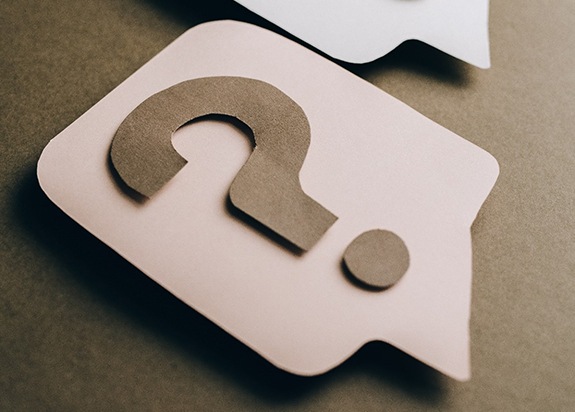 Dentures in Fresno are the go-to treatment for significant tooth loss. They've undergone several improvements to enhance their fit, function, and aesthetics; however, you might have a few concerns before you're ready to commit to them. Here are the answers to a few of the most frequent questions patients ask us about dentures to feel confident in the decision you're making for your smile and quality of life.
Should I have all my teeth pulled to get dentures?
Your dentist does everything they can to save your natural teeth. Unfortunately, there are times when it's recommended a severely compromised tooth is removed, such as from decay, infection, or trauma. If you have several teeth that are damaged, replacing them with dentures may be more cost-effective than repairing them. Your dentures dentist in Fresno will determine if you need any extractions during your initial consultation. Depending on your specific needs, all teeth needing to be extracted can be removed in a single appointment, but if your case is complex, you may need more than one visit.
How long will I have to wait to get dentures after my teeth are pulled?
If you require extractions, you'll likely need to wait at least 6 to 8 weeks to allow your mouth to heal before getting your dentures. The waiting period varies depending on your treatment plan and the type of denture you're using. Some dentures can be placed the same day as your extractions, so you won't need to go without any teeth while you heal. Be aware, you'll need to have adjustments made to them after you've recovered from your extractions because your bone and gums will change shape. If you choose an implant denture, you can expect to wait 4 to 6 months before getting your new teeth. Your jawbone will need adequate time to fuse to the implant posts through a process called osseointegration.
Can I sleep with my dentures?
Your dentist will recommend wearing your dentures for a full 24 hours upon receiving them. After the first day, it's best to remove them at night. Although no one wants to be caught without their teeth, your gums need time to recover because dentures restrict circulation to the tissues. As a result, you can experience soft tissue irritation and increased ridge resorption if you don't give your gums time to rest. Not to mention, leaving them in your mouth at night creates the perfect breeding ground for harmful bacteria that can increase your risk of pneumonia. You can also develop high levels of gum and tongue plaque if they aren't removed.
Can I use regular toothpaste to clean my dentures?
Your dentures' lifespan relies on how well you care for them, which includes daily brushing and rinsing, but you don't want to use toothpaste. It is abrasiveness, which can leave small scratches on the dentures. Instead, use a soft-bristled toothbrush and mild hand soap or dishwashing liquid to clean your dentures after every meal.