Dentures – Fresno, CA
Helping You
Smile Again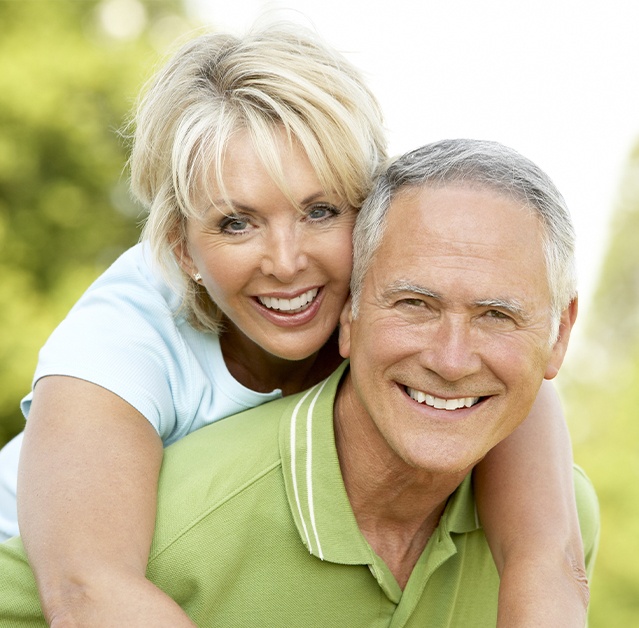 Dentures have been restoring smiles of all shapes and sizes for hundreds of years. Even with the numerous advancements in dentistry, many patients prefer traditional dentures over other more modern solutions. Today's dentures are customized to fit perfectly in each patient's unique mouth. You can count on Dr. Reintjes and the rest of our team at Fresno Family Dental to ensure that you get the best fit possible. Call us today to schedule an appointment to begin the process of designing your new grin!
Why Choose Fresno Family Dental for Dentures?
Dental Implants Offered
In-House
High Quality
Customer Service
Various Dental
PPOs Accepted
What Are Dentures?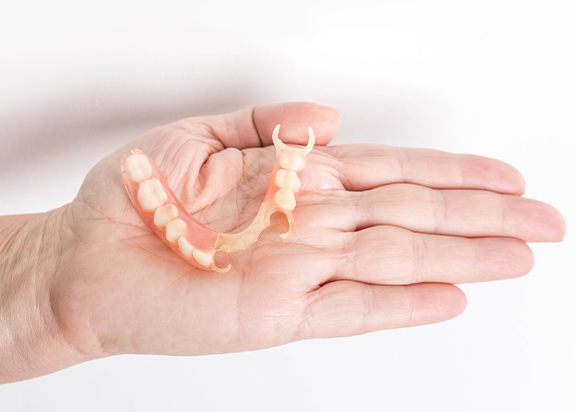 Arguably the most well-known method of tooth replacement, dentures have been used to restore smiles to full function for centuries. Thanks to the advancements made in modern dental technology, today's dentures are more comfortable and lifelike than ever before. Depending on your oral health needs, you may receive:
Full dentures: An entire arch of artificial teeth sit on a gum-colored acrylic base. This base attaches to your gums with natural suction or denture adhesive.
Partial dentures: Partials are specially customized prosthetics to replace missing teeth in specific areas of your mouth when you still have some pearly whites remaining. They're secured with a metal clasp that fits behind your natural teeth.
Implant-retained dentures: A full or partial denture can be anchored onto dental implants or small titanium posts, that fuse to your jawbone and act as replacement tooth roots. These dentures are far less likely to slip, and they restore more of your chewing power than conventional dentures alone.
The Process of
Getting Dentures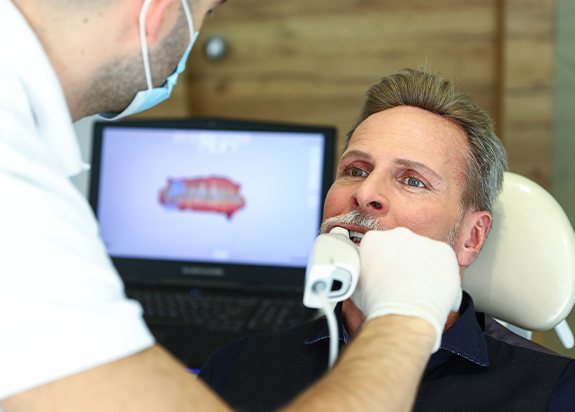 Once your dentist in Fresno has determined that you're eligible for dentures, we begin the process by performing any tooth extractions that are necessary. We then take impressions of your mouth, which we use to create a mold. This mold is sent to a local dental lab, where they'll design your new teeth to comfortably fit your mouth. You'll return to our office a few weeks later to have them fitted.
If you're getting implant-retained dentures, the process is a little different. The dental implants need to be surgically placed into your jawbone, and then your mouth will need the next three to six months to heal. Once this process of integration is complete, the implants should be more than stable enough to support your full or partial denture.
Benefits of Dentures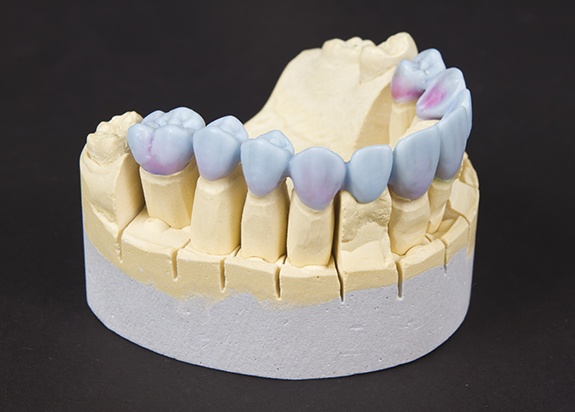 Some of the numerous benefits you can enjoy by replacing your missing teeth with dentures include:
Improving your appearance and boosting your self-esteem
Giving your facial muscles the support they need to prevent premature drooping and wrinkling
Being able to speak more clearly
Restoring your ability to chew your favorite foods
Enjoying easy cleaning and maintenance
Having a smile that can last for decades with dental implants