Invisalign® – Fresno, CA
Get a Straight
Smile with Invisalign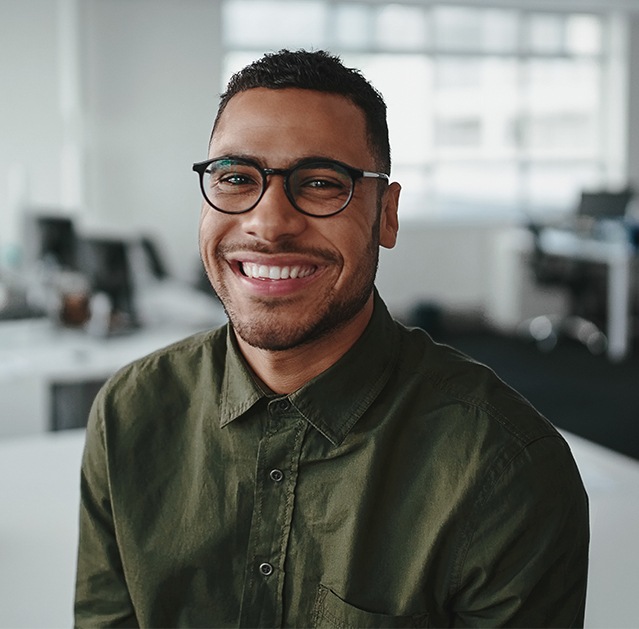 Have you always wanted straight teeth but do not want to deal with the visibility and restrictions of metal braces? You are not out of options. You can get the results you want using the clear choice in orthodontics. Dr. Byron L. Reintjes has the solution you need with Invisalign in Fresno, CA. Join over 2.5 million teens and adults who have made the decision to get a straight smile using clear aligners.
Why Choose the Fresno Family Dental Office of Byron L. Reintjes, DDS for Invisalign®?
Highly Experienced
Dentist
Caring Dental
Team Members
Variety of Dental PPOs Accepted
Benefits of Invisalign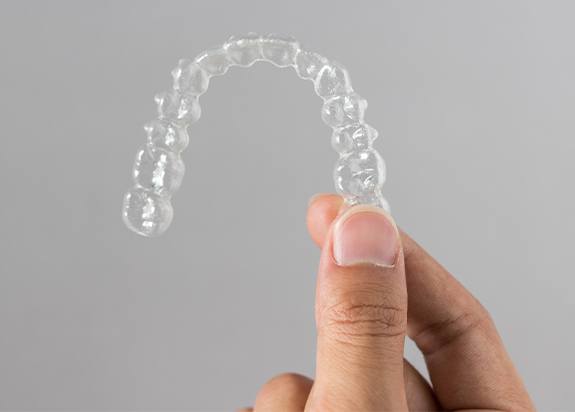 Invisalign is different than traditional braces because it does not rely on wires and brackets to move your teeth. Instead, they are gradually moved into their ideal positions by wearing clear aligners over them. This allows your treatment to be virtually undetectable, so you can smile with confidence during the transformation.
Invisalign resolves many of the disadvantages of metal braces, like an irritation to the inside of the lips. The aligners are smooth to provide a comfortable fit. In addition, they are removable, so there are no dietary restrictions. You can still eat and drink whatever you like, but you should only have water while wearing them.
How Invisalign Works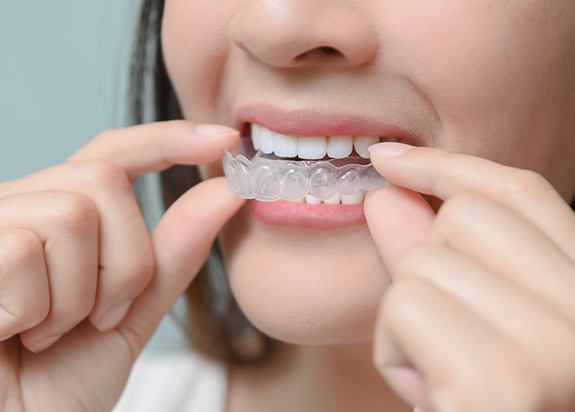 Now, Invisalign can treat an array of bite and alignment issues; however, Dr. Reintjes will perform a thorough consultation to ensure you are a candidate. He takes 3D scans of your mouth to map the movement of your teeth. This allows you to see what your new smile will look like even before you commit to the treatment.
A series of aligners are designed from the scans. You need to wear them for at least 22 hours per day. You use each aligner for 1 to 2 weeks based on Dr. Reintjes recommendations. After you finish the series, you briefly need a retainer to prevent your teeth from moving back into their previous positions.
Get a Straight
Smile Today!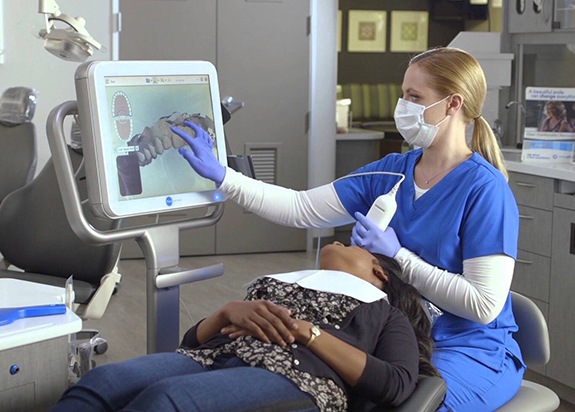 You are never too old to get the smile of your dreams. If you are ready for straight teeth, it is time to see if Invisalign is right for you. Contact our dental office today to schedule your consultation.
Invisalign Frequently Asked Questions
Invisalign offers the clearest path towards a straighter smile, and it's quickly becoming one of the most popular orthodontic treatments available. However, you probably have a lot of questions that need answering before you're ready to commit to a treatment plan. For your convenience, we've gathered some of the most common Invisalign FAQs in Fresno below so you can learn more about this unique orthodontic service. If you'd like to find out even more, don't hesitate to give us a call and schedule your consultation today!
What Foods and Drinks Do I Need to Avoid During My Invisalign Treatment?
Traditional metal braces require you to adhere to specific dietary restrictions during your treatment. On the other hand, you can continue to enjoy all your favorite foods and beverages as you straighten your smile with Invisalign! Simply take your aligners out, enjoy your meal, snack, or beverage, then pop them back into place after giving your teeth a quick brush. As long as your aligners don't come into contact with anything other than plain water, you won't have to change your eating habits at all.
How Can I Manage Soreness When Switching to a New Set of Aligners?
Invisalign aligners are crafted from a single piece of smooth plastic, which offers a much more comfortable straightening experience than metal wires and brackets. However, Invisalign isn't entirely pain-free. You're likely to experience some mild dental soreness when you switch to a new set of aligners. Thankfully, this discomfort should be mild and easy to manage. Try drinking cold water, eating frozen foods, or applying an ice pack or cold compress to the outside of your mouth to numb the ache. You can also take over-the-counter pain relievers as directed to manage your symptoms. Many patients also report that starting a new set of aligners right before bed allows you to sleep through a lot of the initial soreness.
Am I Too Old for Invisalign?
Orthodontic treatment isn't just for teenagers! In fact, millions of adults have straightened their teeth with Invisalign. These clear aligners are ideal for blending into the busy lifestyles of adults, professionals, and parents. Their removable nature means that you won't have to change your day-to-day life to accommodate your orthodontic treatment, and you can smile confidently knowing that you don't have a mouthful of metal to distract from your appearance.
Can I Get Invisalign If I've Had Traditional Braces Before?
Many patients who complete traditional braces early in life find that their teeth have shifted out of place again years later (especially if they neglected to wear their retainers). If this sounds like you, Invisalign may be able to help. Invisalign clear aligners can be used to correct all sorts of dental misalignment and bite issues. However, every case is different. You'll need to come see us for a consultation to know for sure whether Invisalign is the most effective way for you to regain your beautifully straight smile.
Are you ready to start your journey towards a happier, healthier, and straighter smile? Give us a call today to discover if Invisalign is right for you!