Emergency Dentist — Fresno, CA
Call Us for
Your Dental Pain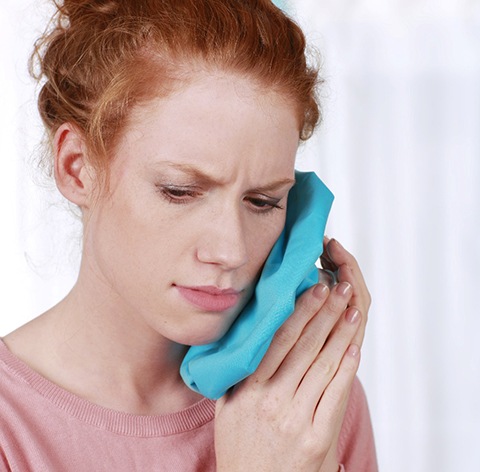 Our team understands that the very nature of an emergency is inconvenience and anxiety. As your dedicated family dental healthcare providers, we're here for you in these stressful times. Please call our dental office immediately to request emergency dentistry in Fresno, CA if you experience a severe toothache, knocked-out tooth, badly damaged teeth, or find yourself in any other precarious dental situation. We do our very best to see emergency cases the same day they call in. If you experience intense bleeding or your emergency extends beyond dental care, please go to the nearest emergency room for assistance first.
Why Choose The Fresno Family Dental Office of Byron L. Reintjes for Emergency Dental Care?
Works to Get You Seen ASAP
Complete Menu of Services in One Location
Variety of Dental PPO Plans Accepted
How We Treat Dental Emergencies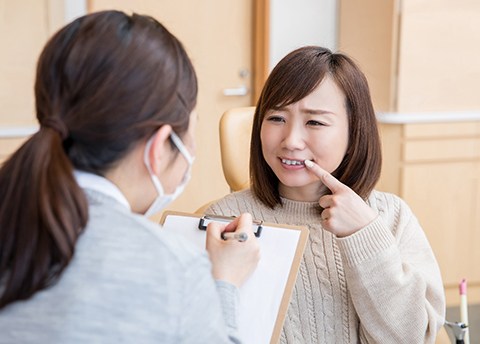 A dental emergency will only grow worse the longer it goes ignored, so we urge you to call us immediately once you realize the there is a problem with your mouth. The sooner you call, the more likely you'll be able to see us the same day. When you get in touch with us, we can give you tips on managing your situation until you arrive at our dental office.
After you arrive, Dr. Reintjes will perform an emergency exam and capture digital X-rays if necessary to locate the source and extent of the problem. He'll also work to get you out of discomfort or provide sedation if needed to help you stay at ease during your visit.
Following your exam, he'll break down his findings and provide recommended treatments to best resolve your emergency. He's happy to go over the estimated costs and expected length of treatment so you can set expectations right away.
We'll work quickly to address your dental issues to ensure your smile and oral health are back on track. Some of the most common treatments performed to address dental emergencies include dental fillings, crowns, root canal therapy, tooth extractions, or another service if deemed necessary.
The Most Common Dental Emergencies
There are many different kinds of emergencies you might experience, so it's a good idea to familiarize yourself with strategies for dealing with particularly common issues. They can help you make your dental emergency easier to manage, reduce discomfort, and prevent your issue from getting worse until you get to our office.
Understanding the Cost of Emergency Dentistry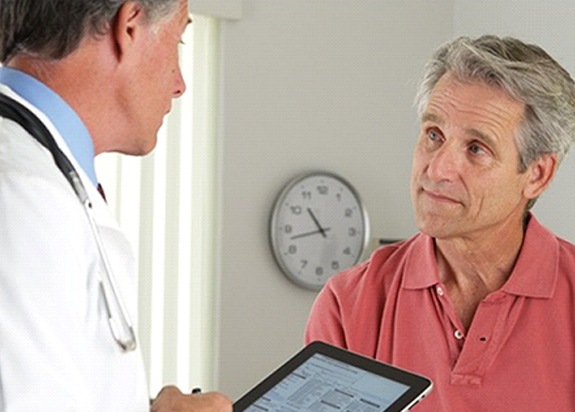 When a dental emergency strikes, you should focus on protecting your mouth and getting the pain relief you need rather than worrying about the price of treatment. The cost of emergency dentistry in Fresno will naturally vary because of the countless possible issues you might be suffering from, all of which can require a number of different treatments depending on the circumstances. Once we've determined the type of treatment you need, we can give you an estimate of the final cost and help you explore your financial options, such as dental insurance and CareCredit.
No Two Dental Emergencies Are the Same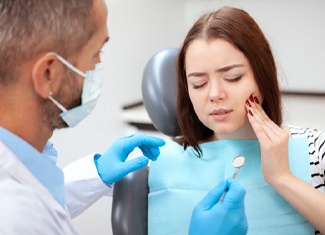 Did you slightly chip your tooth, or is it critically broken? Is your toothache caused by a minor cavity, or is a severe infection to blame? The specifics of your dental emergency will determine the procedures you need to get your smile's health back on the right track. Generally, the more extensive the treatment, the higher the cost will be; extracting and replacing an irreparably damaged tooth will cost more than placing a filling for a small cavity, for example. When you visit our office, your emergency dentist in Fresno will outline the recommended treatments and their associated fees beforehand so that you know what to expect.
Does Dental Insurance Cover Dental Emergencies?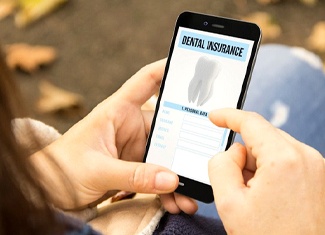 Although every dental insurance policy is different, most of them offer some level of coverage for emergency situations. Often, one emergency exam per year is fully covered. Additionally, many services that are commonly performed to treat hurting or injured teeth, such as crowns and root canals, tend to qualify for partial coverage. This usually amounts of somewhere between 50% and 80%, but of course, it varies from plan to plan. Our team is more than happy to accept your dental insurance, file your claims, and help you get the most of your benefits.
Other Options for Making Dental Emergencies Affordable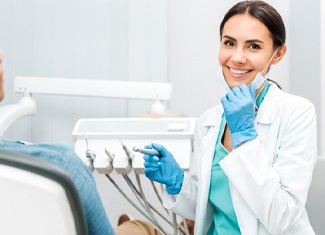 We understand that not every patient has dental insurance, and for those who do, your plan might not provide enough coverage for your emergency treatment. In either case, you'll be happy to know that our dental practice has a partnership with a third-party financing company called CareCredit. We'll gladly help you apply for one of their monthly payment plans, which allow you to pay for your treatment in a more manageable way. Better yet, most CareCredit plans come with very low interest rates – some even have none!
Preventive Dental Care Can Save You Money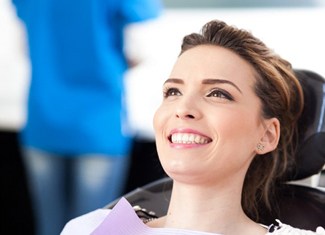 It goes without saying that the best way to save on emergency dental care is to prevent dental emergencies in the first place. While you can't always avoid sudden accidents, you can reduce your risk of tooth decay and infections by diligently brushing and flossing every day. Also, attending two dental checkups each year helps Dr. Reintjes identify and treat potential emergencies early on, which could end up saving you hundreds or even thousands of dollars over the course of your life!
Keys to Preventing Dental Emergencies
Unfortunately, you can't prevent dental emergencies with the snap of your finger. Quite the opposite – it requires consistent dedication to preventive dentistry, starting with your at-home oral hygiene routine and extending to your biannual visits to our office for a checkup and cleaning. With this in mind, keep reading to learn a few recommendations from our Fresno emergency dentist!
Visit Your Dentist Every Six Months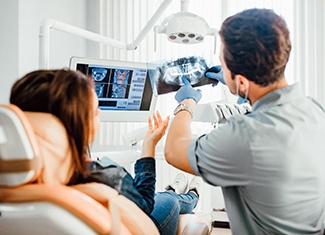 Some dental injuries happen all at once, like a knocked-out tooth during a sports-related accident. Others, however, happen over time. For example, a small cavity can progress to the point where chewing, sleeping, and even concentrating is difficult. To help prevent that from happening, it's important that you visit Dr. Reintjes twice a year for checkups and cleanings. This will ensure that oral health issues are caught early instead of treated at the last minute.
Maintain Good Oral Hygiene At Home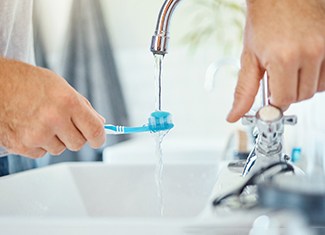 Naturally, you need to clean your teeth and gums between visits as well! Start by using a soft-bristled toothbrush and toothpaste to brush your teeth twice a day (for two minutes at a time). Next, use your floss of choice to gently clean between your teeth and along your gumline daily. Lastly, rinse with an antimicrobial mouthwash for 30-60 seconds each evening. With all of these habits in place, your smile should stay decay and infection-free.
Eat a Well-Balanced Diet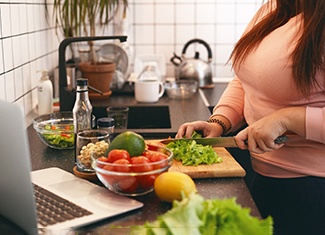 There's room for all of your favorite foods in your diet, including sweet treats. However, frequent consumption of sugar does increase your risk of cavities, which in turn leaves your teeth vulnerable to cracks, chips, and fractures. So, we recommend filling your plate with nutrient-dense foods instead. You also shouldn't chew on ice cubes, popcorn kernels, hard candy, and the like since these can easily result in dental damage that requires a same-day visit to our Fresno dental office for treatment.
Wear a Mouthguard During Sports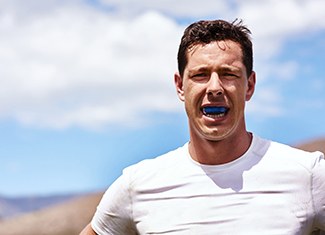 If you play any kind of sport – from football and wrestling to skateboarding and surfing – you should invest in a mouthguard. After all, more than five million teeth are knocked-out each year in sports-related accidents! To protect your smile, talk to Dr. Reintjes about having a custom one made. He can have it made with the appropriate thickness depending on the sport you play so your teeth are properly protected.
Use Tools to Open Packages, Not Your Teeth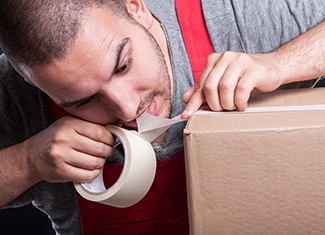 In short, you should always use the appropriate tools to open boxes, bottles, and other containers instead of your teeth. Furthermore, you shouldn't use your teeth as tools to cut your nails, hold your keys, open containers, or anything similar. It will seem convenient – until you crack a tooth and need to head to our emergency dentist's office ASAP for same-day treatment!
Dental Emergency FAQs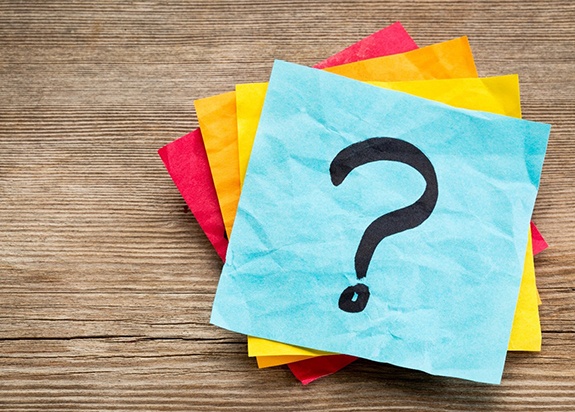 No matter how well you take care of your smile, a dental emergency can still occur when you least expect it to. When you're in the middle of an urgent situation, it can be difficult to know what to do. Luckily, we're here to help! Below, we've decided to answer some of the most common questions we get from patients about dental emergencies in Fresno. If you don't see the answers you're looking for, feel free to give our friendly team a call today!
Should I Visit the Emergency Room First for Dental Emergencies?
Believe it or not, most emergency rooms are unable to effectively address dental emergencies. That's mainly because there's usually not a licensed dental professional on staff. While you should visit Dr. Reintjes first in almost every situation, there are a few exceptions where an ER visit is ideal. You should go directly to your local ER if you have a jaw fracture or dislocation, serious cuts or lacerations to the face or mouth, or an abscess or infection that's swollen to the point of it affecting your breathing or swallowing.
What Should I Keep in My Emergency Dentistry Kit?
Some dental emergencies happen accidentally, which is why it's always best to be prepared for the unexpected. You should carry an emergency dentistry kit with you at all times that contains the following essentials:
Small sealable container
Sterile gloves, ideally nitrile
Gauze pads and dressings
Cotton balls
Denture adhesive
Floss
Ice pack
Your emergency dentist's contact information
Are Toothpicks Safe to Use?
It may surprise you to learn that wooden toothpicks are not safe to use. By using one, you can easily damage your enamel and gum tissue. Even though they're designed to get food out of your teeth, they've actually proven to do the opposite. They can push food particles further in between the teeth or underneath the gum line. All that being said, you should only use a toothpick if it's your last resort.
Can I Pop a Dental Abscess on My Own?
No! You should never attempt to pop a dental abscess on your own. Doing so will only expose your mouth to more bacteria, causing irritation. That's why you should seek treatment from Dr. Reintjes right away. A tooth or gum abscess is considered a dental infection, which is an urgent problem that needs to be addressed immediately. Putting off treatment can allow the infection to spread to other parts of the body, including the neck, throat, and head.