Dental Bridges – Fresno, CA
Say Good-Bye to the Gap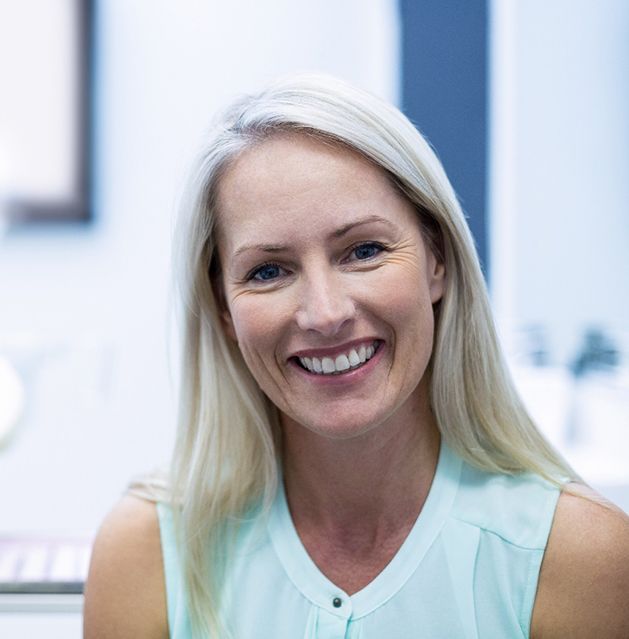 Many people think that tooth loss will never happen to them, and yet there's an estimated 140 million people with a gap in their smile. Luckily, Dr. Reintjes has several ways to fill in this empty space so that you can continue smiling, eating, and speaking normally. A dental bridge in Fresno can replace a single missing tooth or several teeth in a row, and it can be designed in a way that makes it hard to tell that there were ever any gaps to begin with. Call us today to learn more; don't force yourself to live with the gap any longer than you need to!
Why Choose the Fresno Family Dental Office of Byron L. Reintjes, DDS for Dental Bridges?
In-House Implant Placement Available
The Latest Dental Technology
Variety of PPO Insurance Plans Accepted
What is a Dental Bridge?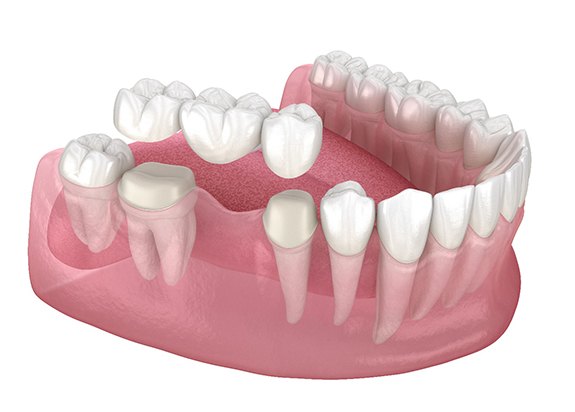 Dental bridges are prosthetic teeth crafted from the same kind of materials used to make single crowns. Each bridge is actually a combination of two dental crowns located on either side of one or more replacements teeth called pontics. The crowns are attached to the natural teeth on either side of the gap, and the pontics fill in the actual empty space. We can design both the crowns and the pontics to resemble your natural teeth as closely as possible so that most people won't be able to tell the difference.
Types of Dental Bridges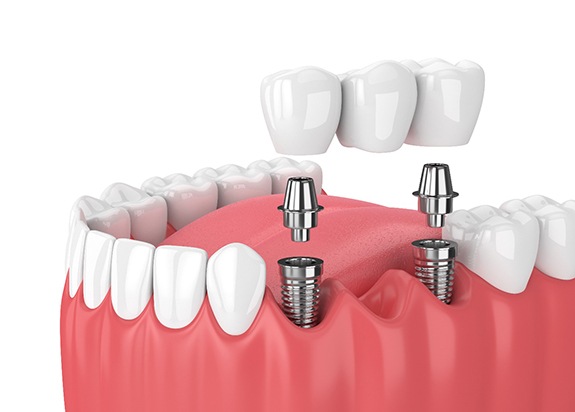 While bridges are traditionally placed on the teeth, they can also be attached to dental implants. Which option is right for you? We can help you answer that question once we've examined your mouth, reviewed your medical and oral health history, and personal smile goals. Then we'll review your treatment options so that you can pick the one that works for you.
Traditional Dental Bridge
A traditional bridge that uses teeth for support is typically recommended if you've lost at least one tooth. Keep in mind that in order to place a traditional bridge, the teeth next to the gap need to be healthy and strong enough to support a restoration.
Implant Bridge
Implant bridges may be recommended if you've lost three or more consecutive teeth. Two implants are placed in strategic parts of the gap; the crowns of the dental bridge will be attached to these implant posts. Note that you'll need to wait several months for the implants to join with the jawbone before they're ready to support the weight of a bridge.
The Benefits of Getting a Dental Bridge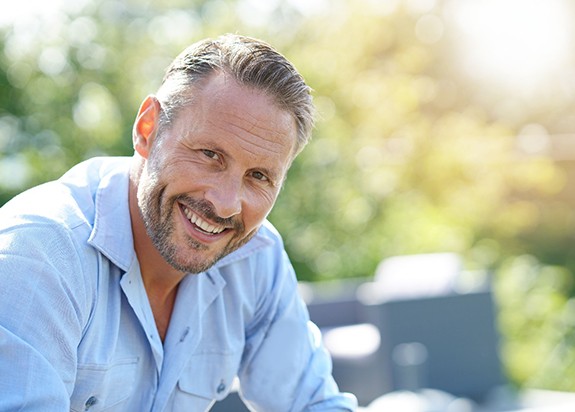 There are several advantages to getting a dental bridge to replace your missing teeth:
Filling in the gap will prevent dental drift and maintain the alignment of the remaining natural teeth.
The bridge will look very natural next to your other teeth so that you can smile with confidence.
You can brush your dental bridge the same way you would brush your regular teeth.
Your restoration will be able to last up to 15 years or more with the right kind of care.
Dental Bridge FAQs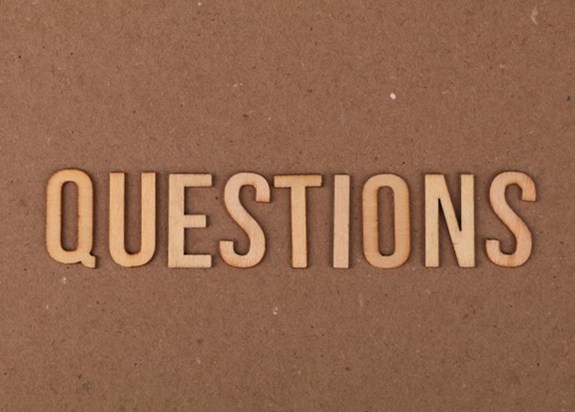 Dental bridges in Fresno have been used for generations to treat consecutive tooth loss. Although they are a tried and proven solution, it is normal to have a few concerns before you are ready to commit to replacing your lost teeth. We will explain everything during your consultation for a complete smile. In the meantime, here are the answers to the most frequently asked questions we are asked about dental bridges.
Are dental bridges removable?
Traditional bridges cannot be removed because they are affixed to your adjacent teeth. The surfaces of your missing teeth are recreated using an impression of your mouth. The bridge is held in place by bonding dental crowns to the supporting teeth. Therefore, only a trained dental professional can remove the restoration. If you're interested in an option that can be taken out, you may be a candidate for a partial denture.
How long will a dental bridge last?
On average, a bridge will last for 10 to 15 years; however, various factors will affect the lifespan of your restoration, like your oral and lifestyle habits. Brushing, flossing, and using a daily mouthwash will keep your smile healthy. Besides caring for your teeth and gums at home, visit your dentist twice a year for a cleaning and checkup. It is best to limit your consumption of sugary foods and drinks to prevent tooth decay. Your dentist will also recommend avoiding anything that may compromise your restoration, like smoking, chewing on your fingernails, or using your teeth in place of scissors. They will also advise you to limit how often you eat hard or sticky foods. Don't forget to wear an athletic mouthguard if you play sports.
Does dental insurance cover dental bridges?
Every situation differs, but most dental insurance plans can be used to offset the cost of care. Often, you can use your benefits for any preparatory treatments, like the consultation, tooth extractions, or gum disease therapy. Although every policy is unique, your dental insurance can cover 50% to 80% of the cost of the bridge after meeting your annual deductible. A member of our team will work on your behalf with your dental insurance to maximize your benefits to reduce your out-of-pocket expenses. Our office accepts various payment methods for any remaining balance, including third-party financing. We have the financial solutions you need to keep a complete smile within your budget.
Are dental bridges cheaper than dental implants?
A traditional bridge is cheaper upfront; however, dental implants are the most affordable long-term because they can last for decades with the right care. With over a 95% success rate and an average lifespan of 30 years, you won't have to budget for replacements. Not to mention, dental implants recreate both the root and crown, preserving your jawbone to stop many issues associated with tooth loss. You'll prevent needing costly treatments later to reduce your long-term dental expenses. In addition, you won't have to alter healthy teeth to preserve your natural smile.