Dental Implants – Fresno, CA
Placing the Roots
of a Better Smile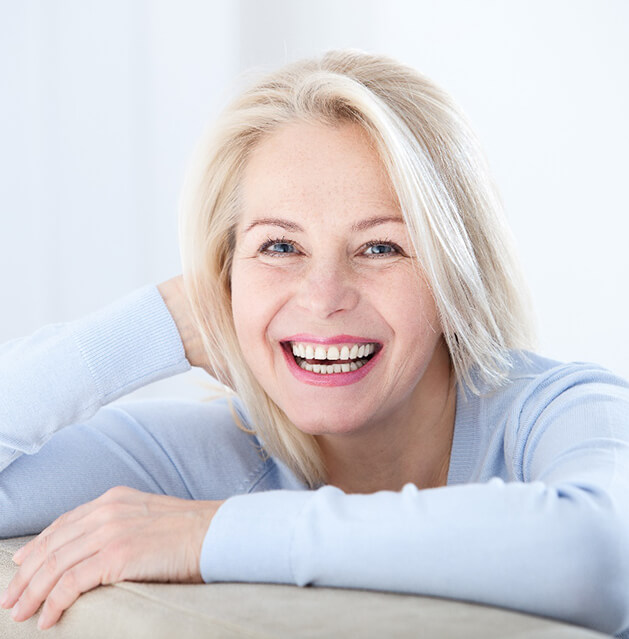 Do you have embarrassing gaps in your smile? It can be hard to feel confident around friends, family, and coworkers if you are missing one or multiple teeth. Fortunately, dental implants in Fresno can help! Dental implants are tiny, screw-shaped posts made from biocompatible materials that are inserted into the jawbone and provide a strong foundation for a new crown, bridge, or even denture. By replacing missing teeth from the roots up, dental implants from our Fresno, CA dentist are the most attractive and durable way to restore one's smile.
If you are ready to reclaim a confident smile, call Dr. Byron Reintjes today to schedule an initial consultation!
Why Choose the Fresno Family Dental Office of Byron L. Reintjes, DDS for Dental Implants?
Dental Implants Placed & Restored in One Location
Highly Trained & Experienced Implant Dentist
State-of-the-Art Dental Technology
What Are Dental Implants?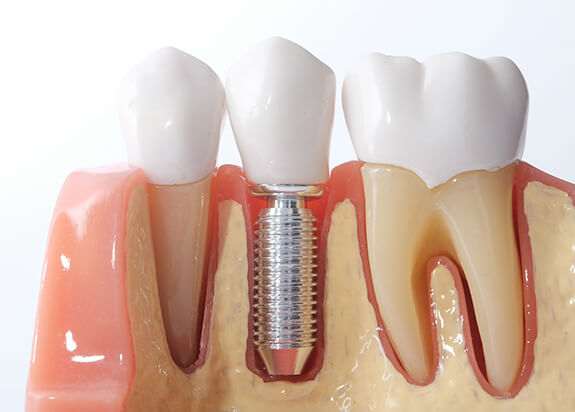 Dental implants are posts that mimic the lost root structures of missing teeth. They are surgically placed below the gums where they fuse with the surrounding tissues and jawbone, recreating the lost root structures. We may offer dental implants crafted from a variety of materials, including titanium and metal-free zirconia.
While traditional options, like dentures and dental bridges, only replace the visible crowns of lost teeth, dental implants bring back the entire tooth structure. Once they have integrated with the jawbone, they create a stable foundation for an abutment that can support a dental crown, bridge, or denture. The end result is a smile that looks, feels, and functions just like what Mother Nature gave you!
The 4-Step Dental Implant Process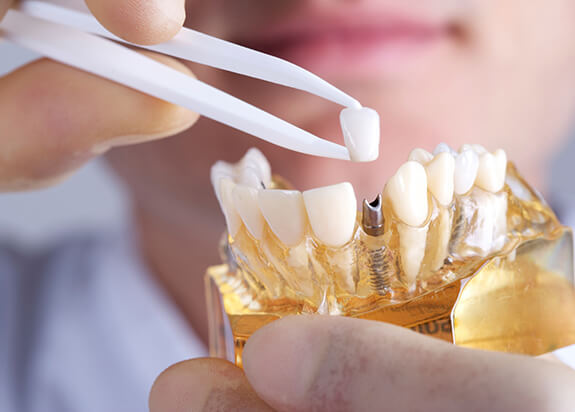 Dr. Reintjes has undergone advanced training that qualifies him to complete every step of the dental implant process, from surgically inserting the implant to attaching the crown, bridge, or denture. This means you do not have to visit an outside specialist to replace your missing teeth, which will save you both time and money! Instead, Dr. Reintjes will oversee the entire journey to your new, confident smile right here at our Fresno dental office. Here are the four main steps you can expect in the dental implant process: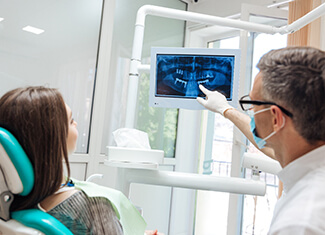 Initial Dental Implant Consultation
If you have good oral and general health, you are likely a candidate for dental implants; however, you will require an initial consultation with your Fresno dentist. Dr. Reintjes discusses your medical and lifestyle history to ensure there are no factors that increase your risk of dental implant failure, such as untreated gum disease. Besides a visual examination, he also uses digital X-rays and a CT scan to assess your oral structures. Based on his findings, you may need additional procedures before having your implant posts placed, like bone grafting.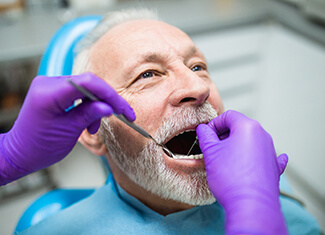 Dental Implant Surgery
The images taken during your consultation are used to pinpoint the precise location for your implant posts. The number of teeth you are replacing determines how many posts you need. You will need to undergo surgery to have them placed in your jawbone.
While under sedation or anesthesia, Dr. Reintjes opens your gum tissue to expose your jawbone. A small hole is drilled into it to allow the post to be inserted. A protective cap is placed over it, and your gum tissue is sutured shut to allow the healing process to begin.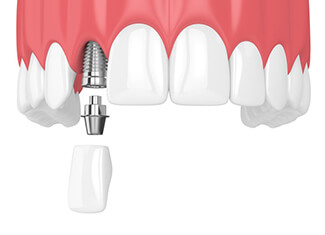 Dental Implant Osseointegration/ Abutment
The implant post acts as a new tooth root. As a result, it stimulates your jaw to encourage new growth. This not only preserves your bone density, but it also allows the post to fuse to your jaw.
Over the next several weeks, your jawbone creates a lasting bond with the post through a process called osseointegration. This allows your implant to last for several decades with the right aftercare. Once your jaw is healed, you will have an abutment placed on it.
The protective cap is removed from the post and the abutment is attached to it. This acts as a connector piece between the implant and your restoration. Your gum tissue heals around the abutment to create natural-looking results while also sealing out bacteria.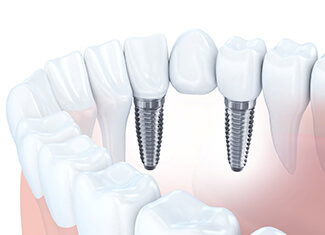 Delivery of Dental Implant Restorations
The final stage to complete your smile involves the restoration process. All-ceramic material is used to craft your prosthetic teeth. Depending on how many teeth you are replacing, you will receive a single crown, a bridge, or a denture.
It is designed to meet your exact size, shape, and color needs to look natural while also ensuring the proper functions. Although the implant posts should never need to be replaced, your restorations suffer from daily wear and tear. As a result, they need to be replaced about every 10 years.
Benefits of Dental Implants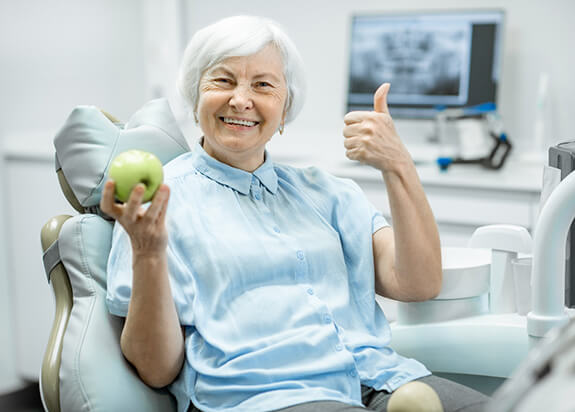 More than 500,000 people choose to rebuild their smiles with dental implants each year, and it's not hard to see why. Compared to traditional tooth replacements, dental implants offer substantial benefits, including: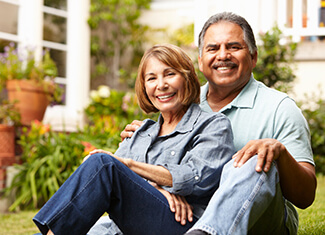 Looks Natural
You can chew, smile, and speak confidently knowing your new smile looks natural. All-ceramic material is used to carefully craft your restorations to match the appearance of your natural teeth. They blend in seamlessly when you smile, so no one will know they are not your own.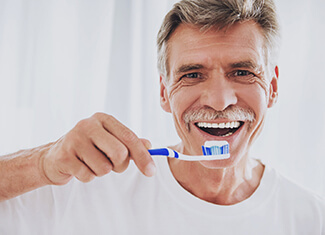 Long-Term Solution
No matter how well you care for them, traditional tooth replacement options need to be replaced every few years. Dental implants can last for several decades to give you one less thing to worry about. Your jawbone fuses to the implant posts, so they should never need to be replaced. You can ensure your new smile last by maintaining your oral hygiene habits and visiting your dentist in Fresno regularly.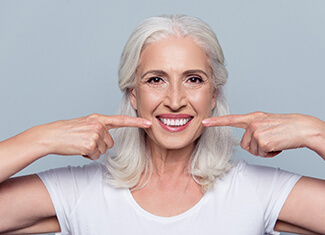 Preserves Facial Structures
Dental implants stimulate your jawbone to preserve its density. This provides your facial structures with the support they need. As a result, you can avoid premature wrinkling and sagging of your skin to maintain a youthful appearance.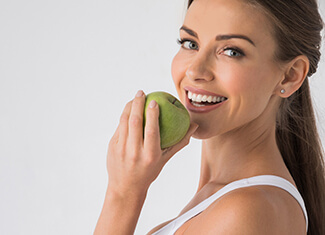 No Slipping or Irritation
The implant posts anchor your restorations to your jawbone. This allows you to regain as much as 70% of your biting force. You can enjoy your favorite foods again and speak clearly because you will never need to worry about any slipping or irritation.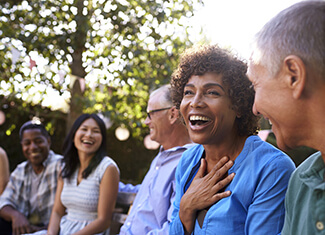 Improves Your Oral Health
Since dental implants replace the roots of your teeth, they stimulate your jawbone. This stops dental drift to reduce your risk of tooth decay, gum disease, and additional tooth loss. This helps to lower your long-term dental costs by keeping your smile healthy. Also, dental implants do not rely on any remaining natural teeth to support them. You will not need to alter your teeth in any way, allowing them to stay strong and healthy for many years to come.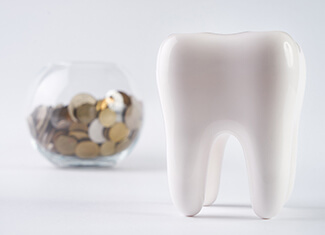 Cost-Effective Solution
Dental implant may cost more upfront than traditional treatments, but they are more affordable long-term. Since they do not need to be replaced, you will save money down the road. Not to mention, they also improve your oral health to reduce your overall dental expenses. Now, there are many ways to lower the cost of dental implants to keep your new smile affordable.
Who Dental Implants Can Help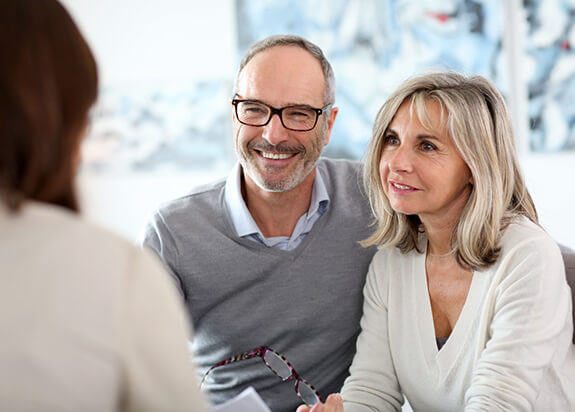 From replacing a single missing tooth to restoring an entire smile, dental implants in Fresno are the ultimate tooth replacement solution.
Missing One Tooth
Fill the noticeable gap in your smile with a single implant and artificial crown. By replacing the missing tooth root structure, dental implants restore chewing power to nearly 100% and blend in seamlessly with natural teeth.
Missing Multiple Teeth
What if you are missing more than a single tooth? Just one or two dental implants can help bridge the gap left by several consecutive missing teeth. Implant bridges offer superior support compared to conventional alternatives, preserve adjacent healthy teeth, and look fantastic as well.
Missing All Teeth
You can restore your entire smile with implant dentures. Unlike traditional dentures that rely on natural suction to stay in place, implant dentures are securely fastened to an average of four to six dental implants. You will never have to worry about your new set of teeth slipping!
Learn More about Implant Dentistry & Dentures
Understanding the Cost of Dental Implants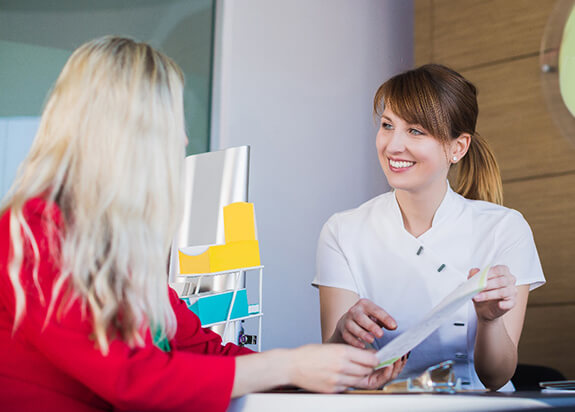 The cost of implant treatment depends on a number of factors and varies from patient to patient. For instance, implant procedures that require multiple implants usually cost more than a single tooth implant. If you need any preparatory treatment, such as gum disease therapy or a bone graft, this will also influence the final cost. However, dental implants always represent a wise investment due to their numerous benefits, including durability. As noted above, with proper care, dental implants can last for several decades – or even the rest of your life!
Dental Implant FAQs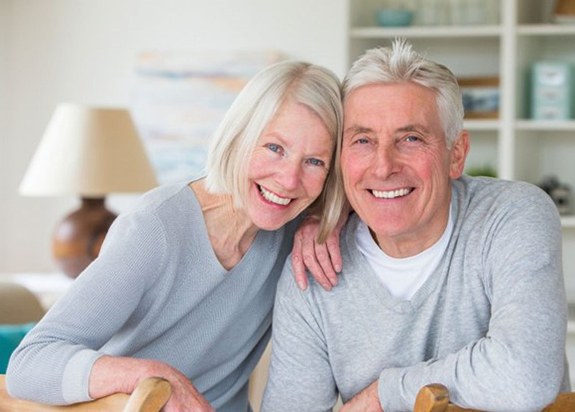 After perusing all of the information earlier on this page, you probably have a decent idea of what to expect when getting dental implants. With that being said, it's important to be well-informed before beginning any sort of dental treatment. To make finding the information you need simple, we've answered a few of the dental implant questions that our team gets asked the most often. Of course, Dr. Reintjes will be more than happy to answer any additional questions during your consultation!
Can I Take Dental Implants Out?
No, you cannot take dental implants out. The posts are securely fixed in the jawbone, just like the roots of natural teeth. While some types of implant dentures can be removed for cleaning purposes, the posts themselves can only be taken out by a trained implant dentist in Fresno.
Am I Too Old to Get Dental Implants?
While you can certainly be too young to get dental implants (the jawbone should be fully developed, which may take until a person's mid-twenties), there is no such thing as being too old for dental implants. As long as you're generally healthy and wish to replace your missing teeth, you can probably benefit from this treatment!
The only thing to keep in mind is that seniors are more likely to have other medical issues that could complicate dental implant treatment, such as bone loss in the jaw. Dr. Reintjes will discuss all of this information during your consultation and come up with ways to make your treatment as successful as possible.
Does Getting Dental Implants Hurt?
Before your dental implant surgery, Dr. Reintjes will make sure you'll fully comfortable. Your mouth will be numbed and you'll most likely be given sedation to soothe your nerves and reduce your body's ability to register pain. Additionally, the jawbone does not contain very many nerve endings. As a result, most patients report that their procedure was much more comfortable than they had been expecting.
That said, your mouth will be sore for a few days following your surgery. Be sure to take prescribed or over-the-counter pain relievers as directed during this recovery period. Applying a cold compress to your cheek for ten minutes a few times a day can also reduce discomfort. Most of the pain should subside after two or three days, but if it does not, then call us right away.
What Should I Do If I Can't Afford Dental Implants?
There is no denying the fact that dental implants cost more initially than dentures and dental bridges. However, traditional prosthetics typically have to be replaced every five to ten years, while dental implants can last a lifetime with the right care. So, dental implants are actually the smarter long-term investment.
Our team understands that funding dental care can sometimes be difficult, which is why we partner with CareCredit to help make dental implants in Fresno affordable. Qualified patients can use a CareCredit plan to break up the cost of their dental treatment into manageable monthly payments. Many of these plans even have very little or no interest!