February 7, 2020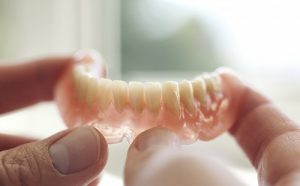 Losing a permanent tooth may be an embarrassing situation, but it's certainly not an uncommon one. According to the American College of Prosthodontics, nearly 120 million Americans are missing at least one permanent tooth and more than 36 million are missing all of their natural teeth! One of the easiest tooth replacement options available are dentures, which can help you get back to using and enjoying your beautiful smile right away! However, they're not meant to last forever. Here are five tell-tale signs that it's time to see your Fresno dentist to replace your dentures.
1. Your Dentures Look Dirty
Although your dentures look solid, they're actually porous, which means they're covered in tiny, microscopic holes. Your dentures become discolored when bacteria accumulate in these small spaces, and they should be replaced to protect your mouth against bacterial infection.
2. Your Dentures Have Visible Damage
Dentures that have visible chips or cracks aren't safe to use and should be replaced right away. If you continue to use them, they could break inside your mouth and damage your gums, tongue, and other soft tissues.
3. Chewing or Speaking Becomes Difficult
It will take a little time to get used to eating and speaking with your dentures when you first get them, but these issues shouldn't reappear later. Difficulty eating and "slushed" speech are often the result of ill-fitting dentures. If your new smile is becoming more of a hassle than a help, it's time to replace your dentures.
4. It Feels Like Your Dentures Are Loose
The tight fit between your dentures and your gums should be enough to hold them in place in your daily life. However, your jawbone and gum ridge change with age, which disrupt that snug placement and cause your dentures to feel loose or slip out of place when you smile, laugh, or talk.
5. Jaw Soreness or Gum Irritation
Your dentures are custom-made to ensure that they are as comfortable as possible. If they no longer fit but instead rest unevenly along your gum ridge, you may begin to experience soreness in your jaw. This could also cause inflammation, discomfort, or irritation in the gum tissue. To relieve pain and keep your mouth healthy, your dentures should be replaced.
Replace Your Dentures Permanently with Dental Implants
Dentures typically have a lifespan of 7-10 years. If you're tired of ill-fitting dentures that need to be replaced all the time, dental implants in Fresno offer a much more permanent solution. These restorations are integrated safely and comfortably directly into your jawbone, which allows them to look, feel, and act just like a natural tooth. Unlike dentures, they support your oral health both above and below the gumline and can last a lifetime with regular brushing and flossing. For a beautiful, functional, and natural-looking smile, talk to your dentist about this modern tooth replacement option!
About the Author
Since 1991, Dr. Byron Reintjes has been helping the families of Fresno, CA and the surrounding communities achieve the smiles they've always wanted. Thanks to his training in implant dentistry, you won't have to see an outside oral surgeon or periodontitis to fix those gaps in your smile. Whether you're missing one tooth, several teeth, or all of them, he will be with you every step of the way to make sure you get the comfortable and effective oral health care you deserve. If you'd like to know more about replacing your missing teeth with dental implants, feel free to contact him via his website or at (559) 438-6684.
Comments Off

on 5 Tell-Tale Signs That It's Time to Replace Your Dentures
No Comments
No comments yet.
RSS feed for comments on this post.
Sorry, the comment form is closed at this time.