August 25, 2022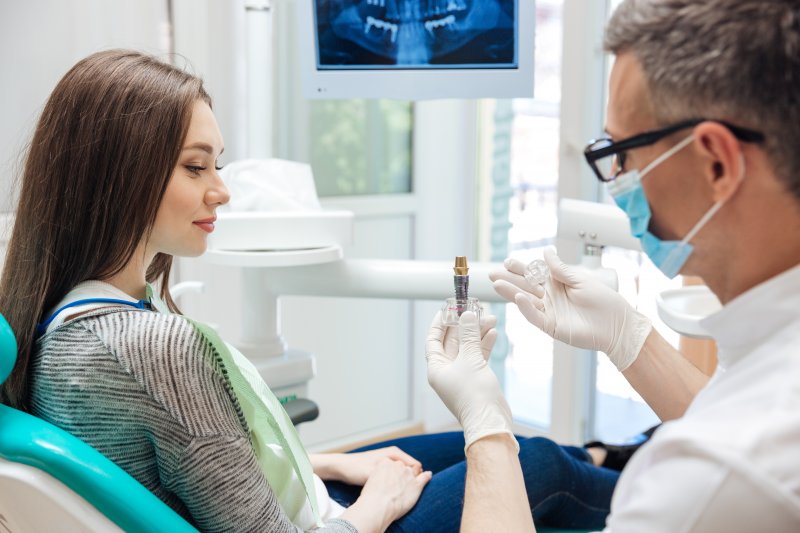 Even if you're eager, you shouldn't get dental implants on short notice. You need to know whether you're a good candidate for treatment first! As such, you must consult your dentist before making any final commitment. Doing so will help you confirm if implants really are right for you. That said, what should you expect from a dental implant consultation? Well, your Fresno dentist can answer that question. Read on to learn four things that'll happen during the consultation visit.
An Initial Chat with the Dentist
When you arrive for your appointment, your dentist will chat with you about your oral concerns. Doing so will give them a chance to learn your unique needs, as well as the results you want.
As part of this talk, the dentist may review your records, ask about your medical history, and assess past X-rays. They might also have you fill out some paperwork on the reason for your visit.
An Oral Exam
Next, your dentist will examine your mouth to understand your oral health. Given your desire for dental implants, they'll especially focus on your jaw's bone density and quantity. After all, you need enough healthy tissue to be a successful treatment candidate. Otherwise, you'll have to get a bone graft beforehand.
For the exam, your dentist will take X-rays or 3D imaging of your mouth. These methods will let them know where an implant should be placed.
Discussion of Treatment Options
After reviewing your exam results, your dentist will explain your treatment options. They'll reference dental implants if the restorations are right for you.
Once you've fully settled on an implant procedure, the dentist will explain the steps in your treatment plan. These will include:
Treatment length
The number of appointments
The role of anesthesia and sedation dentistry
How long you'll need to recover
Specific aftercare instructions
Q&A With the Dentist
Your dentist will end the consultation by letting you ask any remaining questions. Remember to take advantage of this time, as dentists can share their insight and address lingering worries.
Following a dental implant consultation, you'll know where you stand with the restoration treatment. Therefore, go ahead and schedule one with your local dentist today!
About the Practice
Dr. Byron Reintjes is a dentist based in Fresno, CA, having earned his dental doctorate from Brigham Young University. His main specialties are preventive, cosmetic, and restorative dentistry, as well as emergency dental procedures. As needed, though, he can also perform dental sedation and wisdom tooth removal. You can therefore trust him with almost any tooth-or-gum need. Dr. Reintjes currently practices at his self-titled clinic and is reachable on his website and by phone at (559)-438-6684.
Comments Off

on What Should I Expect at My Dental Implant Consultation?
No Comments
No comments yet.
RSS feed for comments on this post.
Sorry, the comment form is closed at this time.