June 13, 2023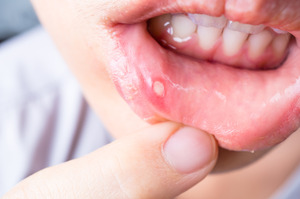 Have you ever had a sore on your gums, your lip, or the inside of your cheeks? It can be a very unpleasant sensation, and it can be made all the worse by not even knowing what caused it in the first place. Knowing the source of the problem can be important for making sure it's dealt with properly. Below is a brief look from your preventive dentist at what can cause oral sores as well as how they can be treated.
What are Some Possible Causes of Oral Sores?
Oral sores can be divided into two categories: cold sores and canker sores. A cold sore is the result of an infection caused by herpes. It's commonly associated with Type 1 herpes (HSV-1), which can potentially be spread to other people via saliva.
Canker sores, meanwhile, are ulcers that can appear throughout your mouth for a variety of reasons. They could be a consequence of stress, food allergies, hormone changes, and vitamin deficiencies. Depending on the cause, you might only have one canker sore or an entire cluster's worth.
How Can You Tell the Difference Between Cold Sores and Canker Sores?
Since cold sores and canker sores can both occur in different areas throughout your mouth, it can sometimes be hard to tell them apart. That said, canker sores are often white or yellow in color, and the tissue around them is often inflamed. Meanwhile, cold sores may be accompanied by symptoms like a burning or tingling sensation, fever, headache, and discomfort when swallowing.
How Can Oral Sores Be Treated?
Canker sores often go away on their own within a couple of weeks and don't necessarily require treatment. That said, if you have a particularly large or uncomfortable sore spot, you might look for over-the-counter creams and gels that can be safely applied to the area. There are also certain medications that might be prescribed depending on the situation.
Cold sores can sometimes last for a few weeks, but lidocaine and benzocaine creams and gels can help you find relief during that time. Also, since cold sores are the result of an infection, you may be able to get a prescription for acyclovir and other antiviral drugs. Be sure not to do anything that could cause the infection to spread to someone else, such as kissing or sharing a fork.
Remember that you can always schedule a dental appointment if you have concerns about oral sores. Your dentist can make a recommendation for treatment once they have reviewed your medical history and taken a close look at your mouth.
About the Author
Dr. Byron L. Reintjes loves how dentistry allows him to have positive interactions with so many different kinds of people. He has been taking care of smiles in Fresno since 1991, and his goal is to provide a place where his patients can have all of their dental needs taken care of, from routine appointments to solutions for oral sores. To schedule a consultation with Dr. Reintjes, visit his website or call (559) 438-6684.
Comments Off

on Why Do You Have Sores in Your Mouth?
No Comments
No comments yet.
RSS feed for comments on this post.
Sorry, the comment form is closed at this time.