November 4, 2022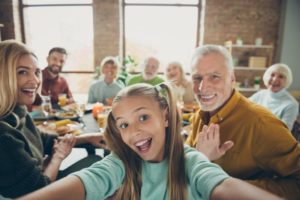 Each year as you gather with family and friends to relax during the holidays, it's a wonderful time to be thankful for the good things in your life. Anyone who has ever suffered from tooth loss and looked to dental implants for help understands that these miracles of modern dentistry can get you back on track in more ways than one. Keep reading to learn reasons why people who have dental implants in Fresno are thankful for them and what they can do for you from your dentist.
Lock In a Long-Lasting Solution for Your Smile
When you take diligent care of them, dental implants have a longer lifespan than any other form of tooth replacement due to their strength and durability. While the ceiling on a dental bridge or denture is about seven years, dental implants can last decades and potentially the rest of your life.
Provide Stability for the Teeth Around Your Implant
The gap from a missing tooth can cause adjacent teeth to shift towards it. This pulls your teeth out of position and can affect your bite, ability to chew, and appearance. When you get a dental implant to fill that space, the teeth on either side of it are supported to bring essential stability to your smile.
Put Yourself in a Better Position to Avoid Oral Health Problems
Dental implants promote oral health and lower your risk of developing tooth decay, gum disease, and oral infections. Speaking of development, when you get dental implants, they stimulate bone growth in your jaw. On the other hand, if you suffer tooth loss and do not promptly seek a replacement, you naturally begin to lose mass in your jawbone.
Enjoy the Opportunity to Have the Foods You Love
At those big sit-down occasions like Thanksgiving and Christmas dinner, there are sure to be so many delicious dishes and you're going to want to try them all. With dental implants, you have the biting power to partake in any main course, side dish, or dessert.
Dentures restore about 30 percent of your natural chewing force, while dental implants boost you up to 75 percent or more! Never worry about causing a scene at the family meal because you shouldn't have tried to eat those pork ribs and ended up heading to see the emergency dentist.
Smile with Confidence
Dentures can slip out of place in your mouth when you talk and eat, while a dental bridge can cause tooth sensitivity. On the other hand, since they are fused to your jawbone, dental implants provide great stability so that you can talk up a storm while trying that new restaurant with your friends.
Dental implants provide numerous benefits, and they are absolutely worth being thankful for. To learn more about them and see if you are a viable candidate, schedule a consultation with your implant dentist in Fresno.
About the Author
Dr. Byron Reintjes has been working for the smiles of his patients for nearly three decades. He earned his dental doctorate from Case Western Reserve University. If you are interested in dental implants in Fresno, he can perform the entire treatment at his office location utilizing state-of-the-art technology. Schedule a consultation on his website or call (559) 438-6684.
Comments Off

on What Are Reasons to Be Thankful for Dental Implants?
No Comments
No comments yet.
RSS feed for comments on this post.
Sorry, the comment form is closed at this time.