December 6, 2022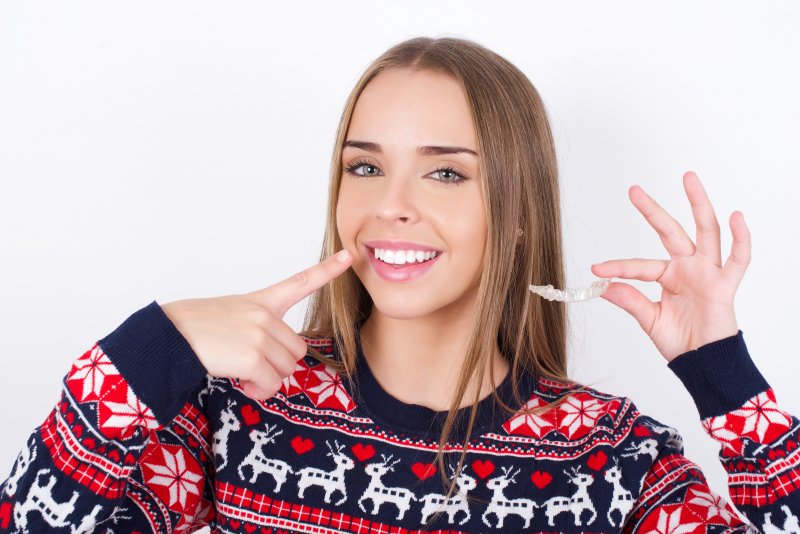 Well, Thanksgiving has come and gone, and so has Black Friday. Do you know what that means? It's now the holiday season! For the next month or so, people will be shopping for gifts, attending parties, and spending time with friends and family. However, this new busyness can make the little things difficult — including your Invisalign plan in Fresno. As such, your dentist is here to help you keep up with the clear aligners. Read on to learn four great tips for managing Invisalign amid the holiday hustle.
Remove Your Aligners During Meals
Whatever you do, don't have meals while wearing aligners. For example, you'd make a mistake even if it's only a few sips of a hot beverage. As soon as hot liquid touches your trays, it could damage their structure and disrupt your treatment. More specifically, the aligners might bend out of shape and move your teeth in the wrong direction. Should that happen, you'd feel pain when switching to new trays.
Given these facts, then, remove your aligners every time you eat and drink.
Clean Your Teeth After Eating
Even in the best of times, you should brush and floss after a meal. That way, you can remove food particles stuck between your teeth. However, this habit is even more essential when you wear aligners. Without it, "leftovers" trapped beneath your trays can cause bad breath, bacteria growth, and tooth decay.
One way to encourage post-meal cleaning is to carry a travel-size toothbrush, toothpaste, and floss with you at all times.
Always Have Your Invisalign Case
Around mealtime, many make the mistake of putting their aligners in a napkin they set on the table. This act often leads to said napkin being thrown away as trash. Though a simple error, it still delays your treatment progress.
To prevent such a scenario, always carry the aligners' storage case and use it whenever you remove your trays.
Wear Your Aligners Daily
If you want your smile straightened, you can't just wear your Invisalign trays for a little while. Treatment will only work when the aligners are on your teeth for 20-22 hours daily. You'll delay or even derail the alignment process otherwise.
Thankfully, there are ways to make this wear-time easier to reach. One would be to set a phone alarm as a reminder. This way, you won't always have to remember the trays yourself.
While Invisalign in Fresno can get tricky during the holidays, it isn't impossible. Therefore, follow the tips above so the festivities don't distract from your straight smile.
About the Author
Dr. Byron Reintjes is a dentist based in Fresno, CA, having earned his DDS from Cave Western Reserve University's School of Dentistry. He's practiced in the field for nearly thirty years and enjoys helping people with oral health issues. With this background, his specialties span preventive, cosmetic, and restorative dentistry, not to mention emergency care. Dr. Reintjes currently practices at his self-titled clinic and is reachable on his website and by phone at (559)-438-6684.
Comments Off

on How to Keep up with Invisalign Over the Holidays
No Comments
No comments yet.
RSS feed for comments on this post.
Sorry, the comment form is closed at this time.