December 6, 2018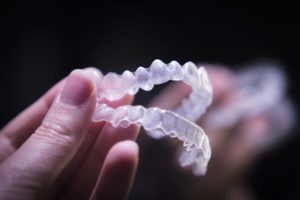 With Invisalign in Fresno, there is no better time to have photos taken with the family than now. No longer does everyone around you need to know that you're pursuing orthodontic treatment. While skipping the metal mouth is a great way to celebrate the holiday season, it doesn't mean that your aligners aren't still at risk of becoming damaged in one way or another. That's why it's crucial to know how to properly care for them and what you should avoid to maintain their clear appearance.
Consider these tips from a dentist to keep your aligners clear and functional throughout the holidays.
Brush and Floss After Meals
Aligners are obviously meant to be removed when eating meals, but that doesn't mean the foods and beverages you consume cannot still affect them after you finish your meal. For one, richly-pigmentated or acidic foods will stay on teeth for longer. Food debris will get caught in between your teeth and can easily affect the way your aligners fit onto your smile. As a result, the food can start to transfer its many tannins and oils onto your aligners, resulting in stains. For this reason, it's recommend that you brush and floss after meals before wearing your aligners again, especially if you're eating foods that you know will cause staining.
Commit to Cleaning Your Aligners
Just like managing your oral health, aligners deserve their own type of maintenance. When you brush in the morning, you'll want to make sure that you're cleaning them as bacteria that builds up while you sleep will slowly stain them if not promptly removed. By doing this, you also remove dry saliva, which causes your aligners to smell quite poorly. This same process should be performed before wearing your aligners before bed.
Rinse and Cover Them Throughout the Day
Since saliva and plaque can still collect on aligners throughout the day, its important that you rinse them every time you remove them to eat. Since saliva is going to have plaque-creating bacteria inside it, you don't want to let it dry out on your aligners while not in use. On top of keeping them smelling fresh, you prevent them from developing faint plaque stains. Along with rinsing, make sure to keep them in their protective case. This will prevent them from collecting dust and from drying out; remember, bacteria can maneuver more easily in dry environments.
Use the Right Tools for Cleaning
When rinsing your aligners, using cool water is perfectly fine. However, when soaking and actively cleaning your aligners of food debris and plaque, you'll need to use certain products that won't damage them in the process. For example, always use a dedicated, soft-bristled toothbrush to brush aligners directly. Only soak your aligners in either Invisalign's patented cleaning crystals or a denture cleanser recommended by the dentist. Avoid using toothpaste to clean your aligners as these products can potentially stain them. Soft-bristled toothbrushes will prevent you from accidentally scratching them. Do not use mouth wash or hot/warm water to soak aligners. These can easily warp and permanently damage them, affecting their overall performance.
Looking for more Invisalign care tips this holiday season? Need to confirm that your treatment is on track? Schedule an appointment with a Fresno dentist today!
About the Author
Dr. Byron Reintjes earned his dental degree from the Case Western Reserve University School of Dentistry. He offers Invisalign clear aligners to straighten teeth discreetly and more easily than traditional braces. To learn more about his practice, you can contact him through his website.
Comments Off

on Using Invisalign in Fresno? Protect Your Aligners This Holiday!
No Comments
No comments yet.
RSS feed for comments on this post.
Sorry, the comment form is closed at this time.