July 30, 2019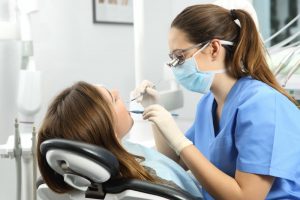 Everyone likes saving money. Many of us are constantly on the lookout for the best deals we can find on any service we use, and that includes dental services. Some people might think you can save money by avoiding regular dental appointments, but the opposite is actually true. By seeing your dentist in Fresno for a checkup and cleaning every 6 months, you can actually save money. Keep reading to find out 3 reasons why.
1. Catch Oral Health Problems Early
One of the main reasons it's important to see your dentist every 6 months is to detect any oral health issues before they become serious problems. The earlier your problem is diagnosed, the easier it will be to treat. For example, if your dentist finds a small cavity, it's fairly easy and cheap to take care of it. However, if you wait too long, that cavity could get worse and need a root canal, a much more expensive and time-consuming procedure. Your dentist can also check for other problems that are best treated early, such as oral cancer and gum disease.
2. Avoid Gum Disease
Gum disease is a bacterial infection in the gums that affects about half of all Americans aged 30 and older. One of the reasons it's so common is because many adults skip out on their regular dental checkups and don't get gum disease treated in its early stage, called gingivitis. At this stage, the condition is still reversible by practicing a good oral hygiene routine. However, if left untreated, gingivitis can progress to periodontal disease, where bacteria create pockets in between the gums and teeth. These pockets can widen until your teeth become loose or even fall out. Periodontal disease can't be cured, so be sure to see your dentist to catch gum problems while they're still early enough to treat.
3. Get Your Teeth Professionally Cleaned
At your regular biannual checkups, a dental hygienist will use special tools to remove plaque and tartar from your teeth. Plaque is a sticky film of bacteria that constantly forms on teeth, and tartar is hardened built-up plaque. Once plaque has hardened, you can't remove it by yourself. Tartar can increase your chance of contracting gum disease and cavities. Make sure to book an appointment twice a year to get this tartar removed.
Seeing your dentist every 6 months can help catch oral health problems before they cause serious harm and require expensive treatment. Schedule your appointment today to save you money tomorrow.
About the Author
Dr. Byron Reintjes earned his dental degree from Case Western Reserve University School of Dentistry. He has been building relationships with patients and improving smiles in Fresno, CA since 1991. To learn more about how early intervention for dental problems can save you money in the long run, contact Dr. Reintjes at (559)-438-6684.
Comments Off

on 3 Reasons Why Seeing Your Dentist in Fresno Every 6 Months Will Save You Money in the Long Run
No Comments
No comments yet.
RSS feed for comments on this post.
Sorry, the comment form is closed at this time.