April 23, 2020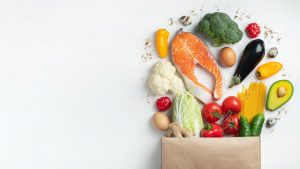 It's been a really long day. Work was stressful, you had back-to-back Zoom calls, and the first thing you want to do it reach for something sweet. While this is certainly understandable, the last thing anyone would want while quarantining during the COVID-19 pandemic would be a dental emergency. While your dentist in Fresno would be happy to see you, instead of opting for foods that leave you at risk for cavities, abscesses, and broken teeth, choose some healthier alternatives. These simple substitutes can have a big impact on your oral health as well as your stress level and overall well-being.
This or That?
According to a recent Nielsen poll, the most purchased snack foods in America are chips, chocolate, and candy. While undeniably tasty, foods that are crunchy, sticky, and sugary increase your risk of developing dental problems. Foods like gummies or lollipops stick firmly to the teeth and can quickly lead to decay if not thoroughly removed. Hard snacks or even biting the wrong way on a popcorn kernel can lead to breaks in teeth.
Though dentists are working hard to see emergency patients during the pandemic, it's no fun for you as a patient to have to endure a cracked tooth or toothache for even the smallest amount of time.
Better, Healthier Choices
Instead of grabbing a chocolate bar, here are some delicious snack ideas that can have a positive impact on your oral health:
Crunchy Fruits and Vegetables: An apple a day keeps the doctor away, and there's some truth in this old adage. Crunchy, fibrous foods like apples, carrots, and celery can actually help to scrape away plaque.
Yogurt, Cheese, and Nuts: Studies have shown that foods rich in calcium and phosphorous can help to restore tooth enamel as well as aid in preventing further cavities.
Nuts and Seeds: Both nuts and seeds contain protein and calcium which your body needs to help protect your teeth and enamel.
Food & the Body
Quarantine is a stressful time. Studies show that processed foods with too much salt, sugar, and food can have detrimental effects on your health.
Switching your go-to snacks with healthier alternatives can do more than just help you to feel better and destress. It can also keep you out of the dentist's office during quarantine. Rather than add to your stress or financial burden by having to book an emergency dental appointment, make healthy choices that will keep you comfortable and help you thrive.
About the Author
Dr. Byron Reintjes believes that conservative dentistry is the best dentistry and he takes his duty as a medical provider and an educator very seriously. Dr. Reintjes loves to give his patients dental tips to create healthy habits for life. He and his team are working tirelessly to ensure that his emergency patients get the care they need during the pandemic.  If you'd like to learn more about his unique approach to education and dentistry, he and his team are here to help by email or by phone at (559) 206-3719.
Comments Off

on An Apple a Day…You Know: Quarantine Snacking Tips from a Fresno Dentist
No Comments
No comments yet.
RSS feed for comments on this post.
Sorry, the comment form is closed at this time.