November 25, 2021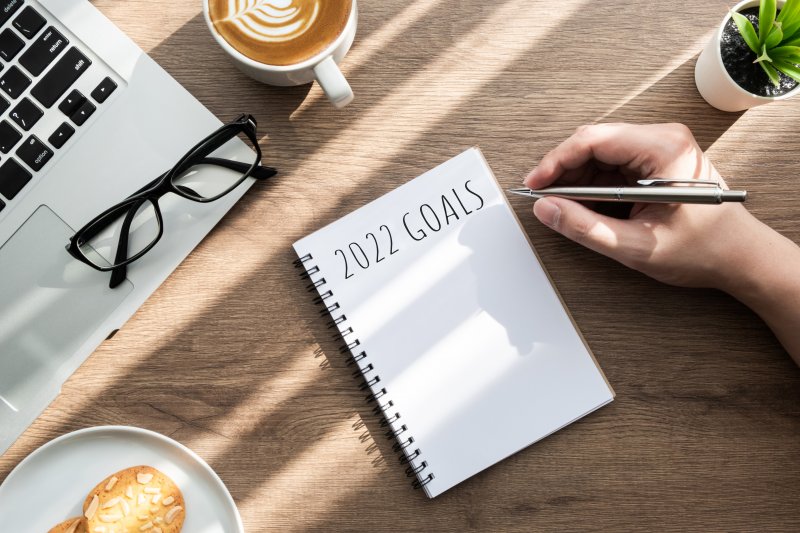 The holiday season is officially in full swing, which means the new year is right around the corner! Have you started thinking about your New Year's resolutions? Most people come up with ways to increase their health and wealth. Well, choosing to make your resolutions about your oral health can help you preserve a healthy smile and have a thicker wallet. Read along as a dentist in Fresno shares a few ideas for resolutions you can use to improve your oral health.
Establish a Good Oral Hygiene Routine
Following a solid oral hygiene routine twice a day can have a profound effect on your mouth's health. Your pearly whites will shine brighter, and your gums will become less sensitive. As a result, you can enjoy the unique feeling of a fresh smile and a stunning appearance. What's more, taking proper care of your teeth and gums is much easier than you may imagine. By following these simple steps, you can keep your mouth as healthy as can be:
Gently brush twice a day using a soft-bristled toothbrush
Use fluoride toothpaste to keep your teeth strong and healthy
Thoroughly clean between your teeth twice a day using floss
Rinse with an antiseptic mouthwash after brushing
Make Healthier Dietary Choices
Did you know that your dietary choices can impact your oral health? The foods you eat can provide nourishment for cavity-causing bacteria, potentially contributing to cavities, gum disease, and other dental problems. To protect your smile, make sure you limit your consumption of sugary or acidic foods and drinks, reduce snacking, and eat lots of nutrient-packed fruits and vegetables.
Avoid Dry Mouth
It may surprise you to learn that saliva plays a crucial role in maintaining the health of your teeth, mouth, and gums. It provides you enamel with minerals, neutralizes the pH level (also known as acidity), and helps wash away food matter and debris. That said, dry mouth can increase your risk of various oral health problems. Luckily, you can keep your saliva flowing by chewing sugar-free gum, drinking milk or other dairy products, limiting your alcohol consumption, and drinking plenty of water.
Quit Smoking and Using Tobacco Products
Everyone knows that smoking and using other tobacco products can be detrimental to your oral and overall health. Tobacco can stain your teeth and increase your risk of many dental problems, including gum disease. Why not make 2022 the year you finally commit to quitting? Even though nicotine is highly addictive, professionals are specially trained to make this feat as easy as can be. You can always ask your dental team for help kicking this bad habit to the curb.
Visit Your Dentist Regularly
A healthy smile requires more than just brushing and flossing. Visiting your dentist every six months for a checkup and cleaning allows them to prevent, detect, or treat issues before they turn into complications. With their help, you can avoid lots of unnecessary pain, time, and money down the line.
The new year is the perfect time to improve your oral health. By implementing the dental tips outlined above, you can ensure your smile remains happy and healthy in 2022!
About the Author
Dr. Byron L. Reintjes has over 30 years of dentistry experience under his belt. He earned his doctorate at the Case Western Reserve University School of Dentistry. Dr. Reintjes is passionate about helping his patients achieve their healthiest, happiest smiles. For more ways to keep your oral health in good shape next year, visit his website or call (559) 438-6684.
Comments Off

on New Year, New You: Resolutions for a Healthier Smile
No Comments
No comments yet.
RSS feed for comments on this post.
Sorry, the comment form is closed at this time.