March 2, 2023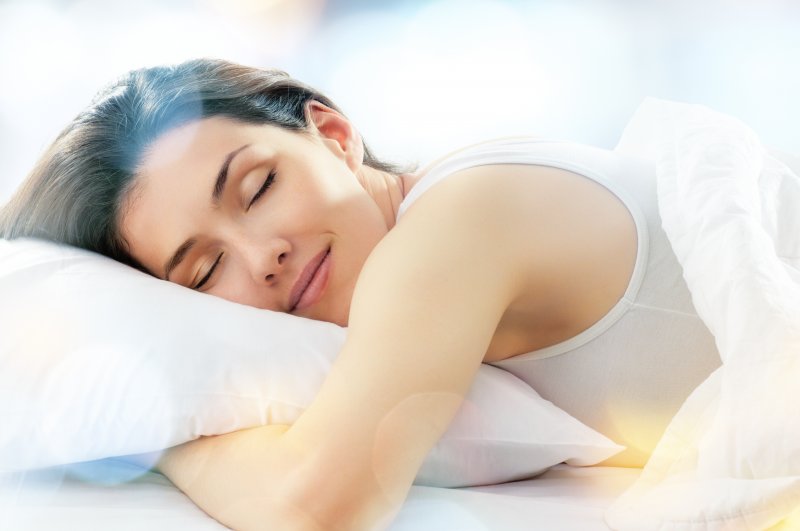 Adequate rest is often a luxury for most people. Busy schedules, taking kids to school, helping them with homework, completing projects for work, and trying to fix dinner are all things that can keep you from embracing the joy of a restful night's sleep. Since March 12-18, 2023 is National Sleep Awareness Week, a sleep dentist is here to share what signs you need to look for that might point to problems with sleep apnea as well as what you can do to seek help.
What is Sleep Apnea?
Sleep apnea is a common condition millions of people suffer from in the United States. It occurs when a blockage forms in the throat, preventing air from flowing freely through the airway. The most prominent form is known as obstructive sleep apnea (OSA), and it is the result of collapsed muscles in the throat, creating an obstruction that prevents proper breathing.
With an estimated 12-20 million people struggling to achieve a quality night's sleep, it's imperative that appropriate treatment is available to reduce the risk of harmful behaviors and worsening overall health.
What Are the Most Common Symptoms?
You may not know if you suffer from sleep apnea unless you have a partner who can tell you if you stop breathing at night or snore. Not all snorers have sleep apnea and vice versa. However, if you begin to notice any of the following symptoms, it's best to go ahead and schedule an appointment with your dentist:
Moodiness/Irritability
Chronic fatigue
Chronic snoring
Dry mouth/sore throat
Hoarse
Inability to remain awake throughout the day
Forgetfulness
Regular morning headaches
High blood pressure
Weight gain
If left untreated, there is the possibility that more serious health conditions can occur, such as heart attack or stroke.
How Can a Dentist Help with Sleep Apnea?
Visiting a sleep dentist for help is a great first step toward improving your quality of life. Although you'll be required to undergo a sleep study for a formal diagnosis, your sleep dentist will be able to provide you with an effective treatment solution to improve the state of your sleep – and oral appliance.
While CPAP (continuous positive airway pressure) devices are the most frequently recommended, they can prove to be bulky and cumbersome to maneuver. However, with an oral appliance, you simply wear it inside your mouth, allowing the device to push the jaw slightly forward so that throat muscles don't collapse, and the airway remains open throughout the night.
Sleep apnea can become a serious problem if not treated right away. Don't let poor sleep quality negatively affect your mental, physical, behavioral, and emotional self. Instead, seek assistance that will allow for improved sleep and fuller breath.
About the Author
Dr. Byron Reintjes is a dentist in Fresno with more than 30 years of experience in the field of dentistry. After completing his dental degree at Case Western Reserve University School of Dentistry, he later opened his own practice and now oversees a team of professionals who remain committed to improving patients' smiles. Offering sleep apnea services to help those struggling to get adequate rest, he can deliver high-quality oral appliances to help patients rest better and breathe easier. Visit our website or call (559) 438-6684 to learn more.
Comments Off

on How Do I Know If I Have Sleep Apnea?
No Comments
No comments yet.
RSS feed for comments on this post.
Sorry, the comment form is closed at this time.