September 15, 2019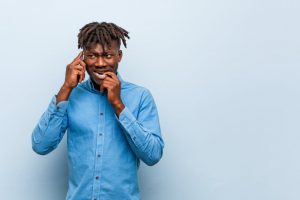 After receiving your first set of aligners for Invisalign in Fresno, you seem to have misplaced or damaged them. The good news is, there's no need to panic because this problem is an easier fix than you may think. Plus, it happens all the time! To prevent any issues during the remainder of your treatment and reduce the chances of extending your timeline, you'll need to act quickly. Here are four steps to take as soon as you've noticed that you lost or damaged your Invisalign trays.
Act Quickly
If you've lost or damaged your Invisalign aligners, there's really no need to stress out. They can easily be replaced, and in most cases, the cost of your procedure covers a set of replacement trays. However, the longer you wait to address the problem, the more time you're adding onto your treatment. Most patients fear that months will be tacked on; however, it's usually just a setback of one or two weeks.
Call Your Dentist
For your dentist in Fresno, lost or damaged aligners are not a new problem, so there's no need to feel nervous about calling them up for help. They can let you know if the price of your treatment included replacement trays, and what course of action you should take. If you end up needing a new aligner, they can order one for you and let you know how this small hiccup will impact the remainder of your treatment.
Don't Advance To Your Next Aligner
It can be incredibly tempting to want to solve the problem on your own and save yourself the embarrassment of having to call your dentist by just advancing to your next aligner. This isn't the best idea and could result in even more issues down the road. Each tray is custom-crafted to gently adjust your teeth into their ideal positions using strategic, gentle force. By advancing to your next set, you'll be altering your dentist's original treatment plan and could move your teeth too quickly.
Prevent it From Happening Again
When you first get your Invisalign aligners, it can take a while to get used to having to keep track of them and take them out when you eat. The best way to avoid damaging or losing them is to be mindful and develop good habits. Be sure not to place them on a napkin next to your food that you may accidentally throw away. Bring your case with you everywhere you go, so if you do need to take them out, you always know where they are. Also, make sure to remember not to chew or drink anything besides water with them in. Although they're strong, they're not indestructible.
If you experience any difficulties while undergoing Invisalign treatment, don't hesitate to contact your dentist right away. They'll know exactly what to do so you won't have to stress out. Lost trays are an easier fix than you think, and when you follow these four steps, you won't have to worry at all!
About the Author
Dr. Byron Reintjes enjoys beautifying smiles and boosting confidence by utilizing the latest dental treatments and technology available. He has been serving his community of Fresno since 1991 and is dedicated to providing high-quality dental care. He has completed a one-year hospital-based dental residency as well as advanced training in orthodontics and Invisalign. For questions or to schedule a consultation for Invisalign, visit his website or call 559-438-6684.
Comments Off

on 4 Steps to Take If You've Lost Your Invisalign Aligners
No Comments
No comments yet.
RSS feed for comments on this post.
Sorry, the comment form is closed at this time.