November 16, 2019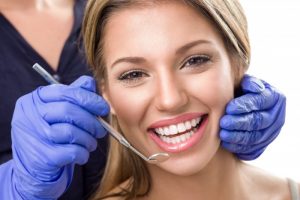 Have you seen your dentist this year? If you've been brushing your teeth regularly and even have some dental floss sitting in your medicine cabinet, maybe you've been putting off your dental checkup. After all, if your teeth aren't hurting, it's easy to put your oral health on the back burner. On average, about 61% of Americans go to the dentist at least once a year, which means a little less than half of us skip getting our teeth cleaned professionally for a whole year. While brushing your teeth certainly helps combat yellow teeth and plaque, it won't protect you from everything. If you've haven't seen your dentist in Fresno this year, find out why it's so important to get your dental checkup sooner rather than later.
Plaque and Tarter Basics
Tooth plaque is a sticky, colorless film containing bacteria that develops along the gumline a few hours after eating. As it builds up, this bacteria releases acid that attacks your teeth and gums. Hardened, mineralized plaque is known as tarter and is easily identifiable by the yellow-brown stains it leaves on your teeth.
What's So Bad About a Little Yellow?
Plaque and tarter aren't all about looks. If left untreated, the bacteria they contain can cause some serious health issues, like:
Tooth decay: Even before your teeth turn yellow, they're being damaged by the acid released by plaque
Gum disease: The same bacteria that's attacking your teeth is attacking your gums too. Gingivitis, the mildest form of gum disease, is reversible, but if it advances to periodontitis, the fibers that hold your teeth to your jaw could be destroyed.
Heart disease: When chewing, the bacteria from plaque can be released into the bloodstream. This type of bacteria has been shown in recent research to have a strong association with an elevated risk of heart disease.
Isn't Brushing Enough?
At your regular dental checkup, not only will your dentist remove all that invisible plaque, hardened tarter, and the harmful bacteria they contain, but they'll help strengthen and protect your teeth against future bacteria. Along with your cleaning, your dental checkup can include:
Fluoride treatment to sanitize your teeth and strengthen weak areas in your enamel.
Dental sealants aimed at protecting your back molars, which are especially susceptible to bacteria.
Oral cancer screenings for early detection, which is a huge factor in effective treatment.
The bacteria that comes with plaque buildup may be inevitable, but the serious health effects it can have don't have to be! Keep those pearly whites clean and see your dentist for a regular dental checkup at least twice a year.
About the Author
Dr. Bryon Reintjes is a graduate of Brigham Young University and Case Western Reserve University School of Dentistry and attended advanced training in orthodontics. Since 1991, Dr Reintjes has been helping people in the Fresno area keep their beautiful smiles cavity-free. Dr. Reintjes can be contact at his website or at  (559) 438-6684.
Comments Off

on More Than Yellow Teeth: The Long-Term Health Effects of Plaque Buildup
No Comments
No comments yet.
RSS feed for comments on this post.
Sorry, the comment form is closed at this time.