December 2, 2020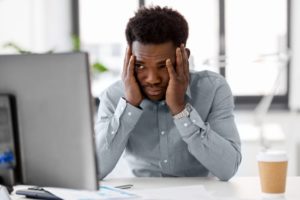 Unsurprisingly, diagnoses for both anxiety and sleep apnea have risen in 2020. The Covid-19 pandemic has caused millions of Americans to feel more stressed out than they have ever been, leading them to toss and turn each night instead of getting the restful sleep they deserve. However, both of these conditions can have serious health consequences if they remain untreated. Here's why you should seek treatment for sleep apnea and anxiety sooner rather than later.
What Is Sleep Apnea?
When a person has sleep apnea, their airway becomes blocked during the night. The brain then sends the body into panic mode. Their heart rate and blood pressure increase, causing them to wake up gasping for air. Because these episodes can happen dozens of times a night, it prevents a person from entering the deep stages of sleep and feeling refreshed in the morning.
The Link Between Anxiety and Sleep Apnea
Chronic sleep deprivation keeps the brain from being able to handle stress like it normally would. A 2005 study published in the journal SLEEP found that people who had been diagnosed with sleep apnea were more likely to experience symptoms of anxiety, post-traumatic stress disorder (PTSD), dementia, and psychosis.
Symptoms that are often associated with sleep apnea (such as restlessness, panic, rapid breathing, fatigue, and even chest pain) can also cause feelings of anxiety. For an individual who is already suffering from an anxiety disorder, the inability to sleep well can worsen their problem.
How You Can Start Getting Better Sleep
Your primary care physician can often refer you to a specialist for your anxiety, or even handle it themselves. But often, a dentist can actually provide you with sleep apnea treatment.
The process begins with a sleep study, which monitors your heart rate, eye movement, blood oxygen levels, and other vitals while you're asleep. Once your sleep dentist has evaluated the results, they can recommend a personalized treatment to improve your nighttime breathing, encourage healthier sleeping patterns, and reduce the risk of anxious thoughts.
While a CPAP (Continuous Positive Airway Pressure) machine was once the gold standard for sleep apnea therapy in Fresno, its noise and bulkiness can make it cumbersome. That's why many patients prefer oral appliance therapy. Your dentist can customize this device to fit comfortably over your teeth, repositioning your jaw and/or tongue to prevent airway blockage.
If you find yourself unable to sleep well at night, or if your days are plagued with anxious thoughts, don't put off getting treatment. Find a dentist who can help you get the peace of mind you need.
About the Author
Dr. Byron Reintjes is a dentist in Fresno whose career spans nearly three decades so far. He obtained his dental doctorate from the Case Western Reserve University School of Dentistry. He has also undergone training in sleep apnea therapy and can create a personalized oral appliance to help you get a good night's rest again. To get started on improving your quality of sleep, visit Dr. Reintjes' website or call (559) 438-6684.
Comments Off

on Is There a Link Between Sleep Apnea and Anxiety?
No Comments
No comments yet.
RSS feed for comments on this post.
Sorry, the comment form is closed at this time.