June 3, 2019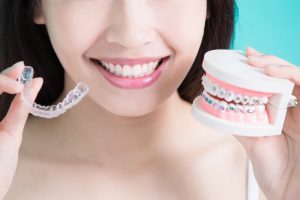 You've always wanted a straight smile, but now you're too old for it to be socially acceptable to wear braces. Or maybe you had braces, but it was so long ago that your teeth have become crooked again. Either way, you don't want to deal with the hassle of wearing braces. You can get the results you want with Invisalign in Fresno! A dentist lets you know what to expect when starting Invisalign treatment.
What is Invisalign?
Invisalign is a set of clear aligner trays that gradually straighten your teeth as you wear them. Your dentist in Fresno will take 3D scans of your mouth to design your aligners to fit your smile. Each aligner represents a different step on your journey to a straighter smile. You will wear each aligner for a week or two, depending on what your dentist advises. In addition, you need to wear the aligners for at least 22 hours a day, only removing them for brushing, flossing, eating, and drinking anything besides water.
Am I a Good Candidate for Invisalign?
Invisalign is designed to treat crooked teeth and minor bite alignment issues. If your bite is severely misaligned, then you might need traditional braces to straighten your teeth.
In addition, Invisalign is designed mainly for adults. Older teenagers can certainly wear them, but children's teeth are still shifting, so Invisalign might interfere with their developing smiles. Overall, it depends on each patient's individual orthodontic needs. Invisalign requires a high level of commitment, since the aligners need to be worn for more than 22 hours a day. Since the aligners are removable, there is a chance that you might neglect to put them back in. For Invisalign to work quickly and efficiently, you must be dedicated to wearing them for the entire length of treatment.
Will Invisalign Hurt?
As with any dental procedure, you may experience some soreness in the first week or two. This is because your teeth are not used to wearing anything over them. You may be tempted to take the aligners out at first to relieve the discomfort, but this will only delay your treatment. You're going to have to tough it out for a few days. Your teeth will become accustomed to the feeling of your aligners.
How Do I Take Care of My Aligners?
Keeping your aligners clean is important for effective treatment. One way to do so is to purchase the Invisalign Cleaning System, either through your dentist or online, which comes with everything you need. Another way is to use lukewarm water, a toothbrush, and toothpaste. Be sure to not use hot water as that can warp the plastic of your trays.
Also, when you are removing your aligners to eat or drink, be sure to put them in a protective case. That way if you accidentally drop them, they will not break, and harmful germs from the floor do not get transferred to your mouth.
With Invisalign, you can subtly straighten your smile without the restrictions and discomfort of clunky metal braces. Talk to your dentist about whether Invisalign is the right option for you to achieve a beautifully straight smile.
About the Author
Dr. Byron Reintjes has been improving his patients smiles in the Fresno, CA area for almost 30 years now. He loves building relationships with patients and getting to use the latest technology to make their smiles beautiful. He has undergone advanced training in orthodontics and Invisalign. For more info on how he can help you achieve a straighter smile, click here or call (559)-438-6684.
Comments Off

on What to Expect When Starting Invisalign in Fresno
No Comments
No comments yet.
RSS feed for comments on this post.
Sorry, the comment form is closed at this time.