June 20, 2019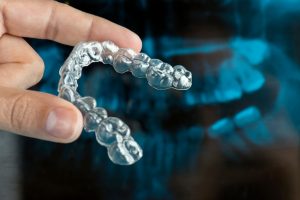 Having a beautiful smile is important when it comes to self-esteem. One important aspect of a beautiful smile is having straight teeth. If your teeth are crooked, you might be embarrassed of them but don't want to endure the awkwardness of braces. Fortunately, there's another option: Invisalign, the set of clear, customized aligners that you wear over your teeth to gradually straighten your smile. But are these aligners comfortable? A dentist answers this question and a few more about Invisalign in Fresno.
Does Invisalign Feel Uncomfortable at First?
For most people, the answer is yes, simply because your teeth aren't used to wearing anything on them. As with most dental treatment, your teeth will need some time to adjust. The plastic aligners are going to feel a little weird in the beginning, and you might be tempted to take them out. But you need to persevere and keep them in for at least 22 hours a day. After the first week or two, your teeth will have adjusted, and you will feel much better.
Is My Discomfort with Invisalign Due to an Allergy?
Although it's rare, some patients have an allergy to the plastic that is used to create the aligners. If that's the case, you might be feeling uncomfortable because of the allergy rather than the newness or tightness of the treatment. If this problem persists for more than a couple of weeks, let your dentist in Fresno know right away.
How Can I Reduce the Discomfort of Invisalign?
You shouldn't be uncomfortable for more than a couple weeks, but there are a few things you can do in the meantime to help:
Remember that your aligners are similar to a new pair of shoes. Once you wear them for a while, you get accustomed to how they feel. You just have to power through that initial soreness.
Distract yourself. Do a fun activity that requires your full attention, like playing video games. If your mind is busy thinking about other things, the period of discomfort will pass by much more quickly.
Keep your teeth and trays clean to prevent cavity-causing bacteria from building up. Be sure to still brush at least twice a day and floss at least once a day. In addition, clean your aligners every day, preferably in the morning to clear away all the bacteria that may have accumulated in your mouth during the night. Soaking them in a 50-50 mixture of water and hydrogen peroxide for 30 minutes and then rinsing with warm water is an excellent way to clean them. You can soak them in soapy water as well. Just be sure to clean your trays regularly.
Invisalign is a great way to straighten your teeth without having to wear annoying braces. They will very likely be a bit uncomfortable to wear at first, but if you tough it out, it will be worth it in the end. You will have a beautiful, straight smile!
About the Author
Dr. Byron Reintjes has been helping patients in Fresno, CA smile brighter since 1991. He enjoys working to build his patients' self-confidence through improving their smiles. He has undergone advanced training in orthodontics and Invisalign. To learn more about how Dr. Reintjes can help your smile, click here or call (559)-438-6684.
Comments Off

on Will Invisalign in Fresno Feel Uncomfortable at First?
No Comments
No comments yet.
RSS feed for comments on this post.
Sorry, the comment form is closed at this time.