September 10, 2020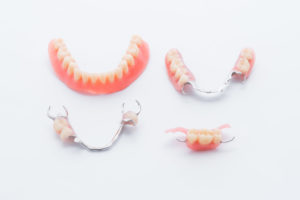 Missing most or all of your teeth can both sap your self-esteem and make it harder to consume the balanced diet your body needs. If you are one of the 40 million Americans that the American College of Prosthodontists estimates are missing all of their teeth, you should consider dentures. No matter your age, this popular tooth replacement solution can restore the appearance and function of your smile – often in a matter of weeks! To learn more about full and partial dentures in Fresno and how long it takes to get them, keep reading below.
What are Dentures?
Traditional dentures are artificial teeth and gums that are typically made from a durable acrylic resin. Comfortable, affordable and natural-looking, dentures can help you once again eat, speak and smile like normal! There are two main types of traditional dentures:
Full Dentures – A full row of artificial teeth set on a gum-colored base, full dentures rely on natural suction to remain in place.
Partial Dentures – Restoring multiple missing teeth at once, partial dentures stay in place through small metal clasps that attach to adjacent healthy teeth.
What is the Process for Getting Dentures?
Replacing missing teeth with dentures involves just a few steps and can often be completed in several weeks. A big factor in the length of the procedure is whether your dentist recommends extracting any remaining failing teeth first. If extraction is necessary, the healing process will add a few months to the overall waiting period.
Here is what you can expect from the dentures process once your gums have fully healed (or if you did not need to remove any teeth):
First, your dentist will carefully examine and measure your gums and oral bone structure before making an impression of your mouth.
Your measurements and impressions will be sent to the dental laboratory, where your custom dentures will be created.
In the meantime, your dentist may ask you to visit for several adjustment appointments to try on a test model, which helps ensure your permanent dentures will fit properly.
Once your dentures have arrived, your dentist will make any small adjustments necessary and place them in your mouth.
What are the Benefits of Dentures?
You can enjoy all of the following benefits when replacing missing teeth with dentures:
Improved confidence
More attractive smile and vibrant appearance
Ability to speak more clearly
Restored chewing ability that enables you to eat your favorites foods
Easy cleaning and maintenance
Am I a Good Candidate?
Whether you have lost your teeth to decay, disease or injury, you are likely a good candidate for full or partial dentures. Most men and women with missing teeth who are otherwise in good oral health can benefit from this popular and affordable dental restoration. If you are ready to reclaim an attractive, full smile once again, talk to your dentist in Fresno about dentures today!
About the Author
Dr. Byron Reintjes has nearly 30 years of experience helping Fresno residents restore their smiles with full, partial and implant-retained dentures. He loves seeing the renewed sense of confidence his patients feel when they once again have a full set of teeth. To learn more about dentures and other tooth replacement options, visit Dr. Reintjes' website or call 559-438-6684.
Comments Off

on How Long Does It Take to Get Dentures?
No Comments
No comments yet.
RSS feed for comments on this post.
Sorry, the comment form is closed at this time.