October 10, 2020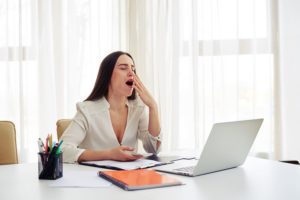 Snoring can make achieving restful sleep difficult, both for you and your partner. In some cases, it can be more than just a nuisance. Frequent snoring is a common symptom of obstructive sleep apnea, which makes you stop breathing several times a night as a result of your airway becoming blocked. In addition to interfering with the quality of your sleep, the condition can lead to multiple other health consequences. Here are seven problems that can arise if you don't get sleep apnea therapy in Fresno when you should.
1. High Blood Pressure
If you already have high blood pressure, untreated sleep apnea can make it much worse. Waking up often throughout the night stresses out your body. Your hormone systems overreact, amping up your blood pressure levels.
2. Heart Disease
People with sleep apnea are more likely to have heart attacks. This may be due to insufficient oxygen. Sleep apnea prevents your body from absorbing as much oxygen as it needs to control how blood flows through your arteries.
3. Type 2 Diabetes
Not getting enough sleep can keep your body from utilizing insulin properly. If this happens often enough, it leads to insulin resistance and eventually type 2 diabetes.
4. Asthma
Researchers have not yet found a definitive link between sleep apnea and asthma. However, some studies suggest that people who seek treatment for their sleep apnea suffer from fewer asthma attacks.
5. Acid Reflux
There is no scientific proof between acid reflux and sleep apnea, but there exists plenty of anecdotal evidence to say they're connected. Many people have claimed that treating one of these problems reduces their symptoms of the other.
6. Car Accidents
Drowsy driving increases your risk of falling asleep at the wheel. People with sleep apnea are up to five times more likely to get into traffic accidents than those without the condition.
If you find yourself tired all of the time, or your partner reports snoring coming from your side of the bed, ask your dentist about sleep apnea therapy. In many cases, they can prescribe a comfortable oral appliance to wear as an alternative to the loud, inconvenient CPAP machine. This treatment can help you get a good night's sleep and keep your body healthy!
About the Author
Dr. Byron Reintjes has been a dentist in Fresno, CA since 1991. He earned his Doctor of Dental Surgery degree from the Case Western Reserve University School of Dentistry. To help his patients with sleep apnea, he can create a custom-fit oral appliance that gently repositions your jaw and prevents your airway from becoming blocked. To learn more about how you can start getting more restful sleep, you can contact Dr. Reintjes' office at (559) 438-6684.
Comments Off

on 6 Hidden Health Consequences of Not Treating Your Sleep Apnea
No Comments
No comments yet.
RSS feed for comments on this post.
Sorry, the comment form is closed at this time.