September 23, 2019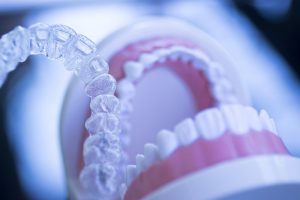 Is your smile suffering due to flaws like misaligned teeth? Using the latest technology that dentistry has to offer, Invisalign in Fresno gently shifts teeth into their ideal positions to improve your oral health and the look of your smile. The best part is that there won't be a metal bracket or wire in sight! If you're curious about whether or not Invisalign aligners can help you, read on to find out what problems they can fix and who may not be a good candidate.
What Problems Can Invisalign Fix?
When you visit a dentist in Fresno who has completed advanced training in Invisalign treatment, they'll be able to fix a variety of orthodontic issues without the use of brackets and wires. Over the last two decades, the latest dental technology has allowed these clear aligners to fix orthodontic issues and oral conditions including:
Gaps between teeth.
Crowding.
Overbite.
Open bite.
Crossbite.
Overjet.
Misalignment.
In severe cases, surgery or traditional braces may be the fastest option. However, for most patients looking to repair these issues, Invisalign can do the trick. The best way to find out is to visit your dentist for a consultation. They'll take images of your mouth and ensure that clear braces are the right choice for you.
What are the Benefits of Invisalign?
Invisalign has helped over 7.2 million people improve their smiles and oral health. The reason this advanced treatment comes highly recommended by patients and professionals alike is because it offers countless benefits that traditional braces aren't able to. Some of these advantages include:
Practically unnoticeable appearance. The aligners are made from a clear, smooth plastic that gently glides over your teeth to strategically place pressure on them. Because of their clear look, they'll be hardly noticeable to colleagues, in pictures, and on dates.
Better oral hygiene. Unlike traditional braces, aligners are removable. Instead of having to navigate around wires and brackets to clear food debris and bacteria from your mouth, all you'll have to do is take them out. That means that your oral health won't have to suffer.
Shorter treatment times. Traditional metal braces have an average treatment time of 18 months to three years. With Invisalign, you can enjoy a shorter treatment of eight to 14 months.
Who is Not a Good Candidate?
Some health issues or complex orthodontic problems can disqualify you from being a good candidate for Invisalign. If you have gum disease or cavities, you'll need to get them treated before you can start your treatment. For more severe dental issues, sometimes surgery or traditional braces will be the more efficient and effective treatment for you.
The best way to find out if Invisalign is right for you is to schedule a consultation with your dentist in Fresno. They can walk you through the procedure and give you more information on the cost and timeline. While Invisalign isn't for everybody, it may be able to help you! Schedule your appointment today to start your journey towards a straighter smile!
About the Author
Dr. Byron Reintjes hasn't lost his passion for improving his patients' smiles since he opened his Fresno practice in 1991! He has completed a one-year hospital-based dental residency and has undergone advanced training in orthodontics and Invisalign. He enjoys interacting with his patients and giving them the knowledge and gadgets they need to maintain beautiful teeth. For questions or to schedule a consultation for Invisalign, visit his website or call 559-438-6684.
Comments Off

on Can Invisalign Fix Your Orthodontic Problems?
No Comments
No comments yet.
RSS feed for comments on this post.
Sorry, the comment form is closed at this time.