April 18, 2018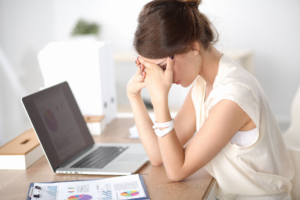 Do you snore excessively at night? Maybe you wake often with a headache or still feeling tired? You could be among the 22 million Americans who suffer from sleep apnea. This disorder results when an obstruction in the airway causes the passages to collapse, resulting in frequent pauses in breathing. Over time, the lack of adequate oxygen will significantly decrease your quality of life and general health. While it is often believed that it only produces complications for those who suffer from it, it also has a significant impact on the economy. To stop the personal and economic implications, it is vital to seek treatment from your Fresno dentist.

Economic Impact of Sleep Apnea
Sleep apnea is a chronic disease that affects roughly 12% of the adult population in the United States. Unfortunately, many of those who have the condition remain undiagnosed and untreated. The long-term health complications that arise from leaving it untreated creates a significant rise in the cost of healthcare. In fact, it is estimated that there could be an annual economic savings of $100.1 billion if every patient were properly treated.
Undiagnosed sleep apnea is estimated to cost the economy $149.6 billion each year. This includes over $86 billion in lost productivity, $26.2 billion in auto accidents, and $6.5 billion in workplace accidents every year. The health risks associated with leaving it untreated, like heart disease, depression, and diabetes, increases the annual healthcare cost by $30 billion.
According to the American Academy of Sleep Medicine, treating sleep apnea not only has a positive impact on the patient's life, but the economy as well. With improved sleep quality, it can decrease lost workplace productivity by 40%. In addition, the risks and costs of auto accidents will also be reduced.
Those with sleep apnea are 2.5 times as likely to be involved in a motor vehicle accident as it leads to a decrease in cognitive abilities. When properly treated, auto accidents have shown to decline by 70%. While the personal and economic complications resulting from the condition may be complex, treating the it is relatively simple.
Sleep Apnea Therapy
Your dentist in Fresno offers the solutions you need to treat sleep apnea. In the past, a CPAP machine was used to deliver a steady stream of air through a mask that is worn while sleeping to keep the airways open. Now, an oral appliance is often used. It repositions the jaw forward to keep the airways open. It has shown to be effective for treating mild to moderate cases of the condition.
Breathe Easier and Sleep Better
If you have untreated sleep apnea, do not wait to get treatment. Contact your dentist today to restore your sleep quality by breathing easier.
About Byron L. Reintjes
Dr. Byron L. Reintjes provides comprehensive dental care to the community. In addition to creating healthy, beautiful smiles, he also offers treatment for sleep apnea. If you are suffering from the sleep disorder, get the solution you need to improve your health and quality of life. Contact our office today to schedule your consultation.
Comments Off

on Fresno Dentist Explains the Economic Impact of Sleep Apnea
No Comments
No comments yet.
RSS feed for comments on this post.
Sorry, the comment form is closed at this time.