March 22, 2020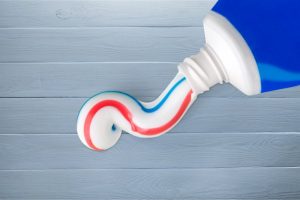 To keep yourself and your loved ones healthy, it's essential to practice social distancing during the COVID-19 pandemic. The last thing you need while trying to limit trips outside is to run out of toothpaste! Thankfully, your Fresno dentist has a few tips for extending the lifespan of your toothpaste, floss, and mouthwash. Here's how to keep your smile clean and make your dental products last throughout quarantine.
Are You Using Too Much Toothpaste?
Many toothpaste commercials and advertisements indicate that you should cover the entire length of your toothbrush bristles with toothpaste. However, that's far more than the recommended amount! The American Dental Association reports that adults only need a pea-sized drop of toothpaste to effectively clean their teeth and gums, and children under the age of three only need a smear the size of a grain of rice. Using more than that won't make your mouth any cleaner. Cutting back on using excess toothpaste is a habit that will save you money and a trip to the store.
Should You Hold Back on Flossing?
The ADA recommends using a new 18-inch string of floss every day, which may sound like a lot at first. However, using a long piece allows you to use a fresh portion to clean each tooth. If you use less floss or reuse a dirty string, you run the risk of redepositing all the plaque, bacteria, and food particles you dislodged in the first place. You need to be flossing thoroughly every day, otherwise you might find yourself with gum disease at the end of quarantine! If you're looking for a longer lasting option, try ordering some reusable interdental brushes that only need to be replaced every few weeks.
How Often Do You Use Mouthwash?
If you're like the vast majority of mouthwash users, you probably sip your rinse from the lid or provided cup. However, do you pay attention to how much you pour out? Most products only recommend about 3-5 teaspoons at a time. In fact, while certain mouthwashes can be an important tool to combat bad breath, gingivitis, and plaque, they're not absolutely necessary to keep your mouth healthy. So if you're concerned about running out of mouthwash, try limiting how often you use it.
Extra time at home during quarantine provides an excellent opportunity to focus on and perfect your dental routine. Not only will this help you avoid a trip to the store, but it will also set you up for a lifetime of happy, healthy smiles!
About the Author
Dr. Byron L. Reintjes has been helping the smiles of Fresno, CA stay healthy, beautiful, and intact since 1991. He typically demonstrates his commitment to his patients' oral health and overall wellbeing by providing a variety of dental services for the whole family under one roof alongside state-of-the-art dental technology. However, in light of the COVID-19 pandemic and the state-wide stay at home order, he's continuing to show his dedication from a distance by explaining the best ways to care for your smile at home. If you or a loved one is experiencing a dental emergency, please don't hesitate to contact him via his website or at (559) 438-6684.
Comments Off

on How to Make Your Dental Products Last Throughout Quarantine
No Comments
No comments yet.
RSS feed for comments on this post.
Sorry, the comment form is closed at this time.