February 4, 2019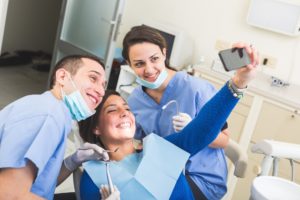 Do you know the secret to a healthy smile? It involves more than just brushing and flossing. Your teeth and gums also rely on the regular care you receive from your Fresno dentist. The American Dental Association recommends you have a cleaning and checkup at least twice a year to maintain your oral health. Unfortunately, it has been a while since your last appointment. Whether you are new to the area or are ready to recommit to your smile, you need a new dentist. Do not choose just anyone. Make the right choice for your smile using these 7 simple tips.

Choosing the Right Dentist
You have unique oral health needs, which constantly change over the years. You also have certain expectations for your care and comfort. Although there are many great dentists in the area, not all will meet your expectations. You can ensure you pick the right one using these 7 easy tips.
Ask for Referrals and Recommendations
Ask your friends, family, or neighbors for recommendations in the area to create a shortlist of potential dental practices.
Qualifications & Experience
Review each dentist's qualifications and experience to choose one who is highly trained and accredited by various organizations. Besides earning their dental degree, look for regularly continued education and areas of specialty.
Complete Services
Your oral health needs change over the years. Choose a dentist who offers complete services to meet your needs through all stages of life.
Reviews & Testimonials
Take the time to read online reviews and testimonials from current patients. This gives you first-hand insight regarding the care and services you can expect to receive.
Before & After Pictures
Look at the dentist's photo gallery to review before and after pictures. This allows you to see the results you can expect. Be sure the images are of real patients and not stock photos.
Advanced Technology
Now, the services you receive should be complemented by the latest technological advancements for accurate diagnosis and treatments. Choose a dentist in Fresno who embraces the latest innovations to deliver superior care.
Convenience and Affordability
You need a dentist who makes it easy to maintain your appointments. Consider the location's office hours to ensure they accommodate your schedule. In addition, choose a dentist who accepts your dental insurance and offers different payment options to keep your healthy smile affordable.
Schedule Your Consultation!
After you have found a dentist, schedule an initial visit to get to know the dental team. With the right dentist by your side, you will have the foundation you need for a lasting, healthy smile.
About Byron L. Reintjes
For over 20 years, Dr. Byron L. Reintjes has created healthy, beautiful smiles in the community. Besides general dentistry, he offers a variety of specialty services, such as orthodontics. He strives to provide the customized solutions you need for superior oral health. If you need a new dentist, contact our office today to schedule your first visit.
Comments Off

on 7 Tips to Find the Best Fresno Dentist
No Comments
No comments yet.
RSS feed for comments on this post.
Sorry, the comment form is closed at this time.