September 8, 2023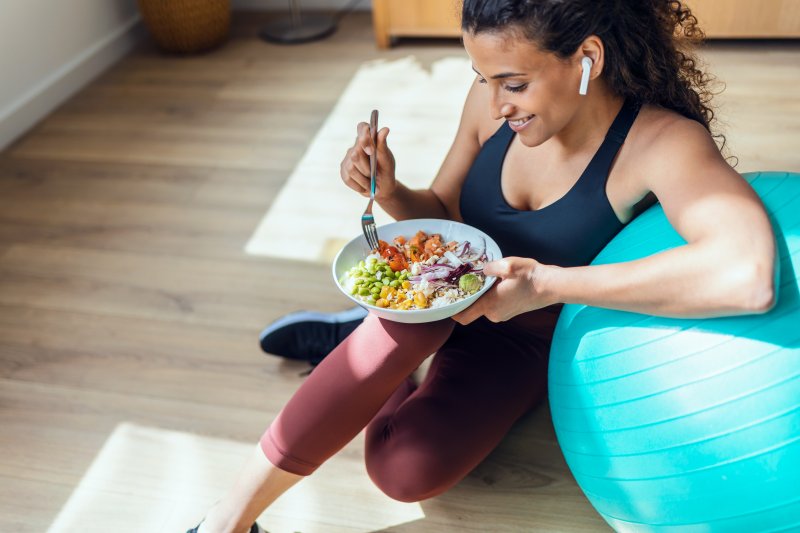 Chances are, you've probably considered a diet at some point in your life. Maybe your doctor told you to change your eating habits for your health. Perhaps you just want to look good in the clothes you wear. Either way, your diet has a purpose and today that should be helping your dental implants last longer.
Continue reading to find healthy suggestions for a diet that will keep your dental implants hardy and hale.
1. Fruits and Vegetables
It shouldn't come as a surprise that you'd see fruits and vegetables at the top of the list. They offer a wide variety of flavors and provide many essential vitamins and minerals needed for health. However, there are some specific examples that should definitely be a part of your diet:
Bananas – The humble and often overlooked banana is low-cost, delicious, and packed with nutrients like potassium, magnesium, manganese, and calcium. All of these are great for teeth and bones.
Butternut Squash – This gourd is high in vitamin A which can be especially good if you're recovering from dental implant surgery as it promotes healing.
Celery – Not only does this crunchy snack clean your teeth, but it's full of vitamin K which promotes the absorption of calcium.
2. Dairy Products
All dairy products are powerhouses for tooth and bone development. With their high concentrations of calcium, vitamin D, and phosphates. These nutrients will help keep your other teeth healthy and strengthen your jawbone to support your implant.
You can't go wrong with dairy. Try adding cheese, milk, and Greek yogurt to your diet whenever possible. If you're lactose intolerant, almond milk is your best bet as it has almost all the same nutrition that other dairy products do.
3. Whole Grains
Whole grains contain the whole seed of the grain, unlike their ultra-processed cousins. This allows them to retain their nutrients, even when converted into other forms like bread.
The best candidates from this category are oatmeal, whole-wheat bread, and brown rice. All of these whole-grain foods are high in fiber which cleans teeth and activates salivary glands.
Saliva is a big part of implant health as it helps to wash away food debris from your teeth and helps fight gum disease which can cause your dental implants to fail.
4. Lean Meats
While the proteins and phosphorites in meat are good any time, they can be especially important when you're recovering from dental implant surgery.
These essential nutrients are the building blocks of your soft tissues, so they promote healing and help fight against infections.
Chicken, turkey, and lean ground beef are also good sources of iron and B vitamins that stimulate blood flow. Circulation is important to maintain the health of your gums which helps stabilize your dental implants.
Diets can take many forms, but the best diet is the one you can stick to. Try combining these foods together to make delicious meals that will also keep your oral health in check. With persistence and ingenuity, you'll be eating like a monarch while preserving your precious dental implants.
About the Author
Dr. Byron L. Reintjes has been doing dental work for over 30 years. His knowledge and experience provide exceptional dental care to meet the unique needs of every patient. Dr. Reintjes earned his dental doctorate at the Case Western Reserve University School of Dentistry and has since dedicated his time to the study of dentistry through his work. To schedule an appointment at Byron L. Reintjes, DDS, call (559) 438-6684 or visit the website to learn more.
Comments Off

on 4 Healthy Food Groups That Support Dental Implant Health
No Comments
No comments yet.
RSS feed for comments on this post.
Sorry, the comment form is closed at this time.