October 18, 2018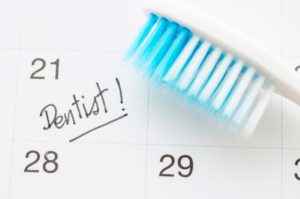 The last few months of the year always seem to go by in a flash. It's easy to get so caught up in the busyness of fall and winter activities that you let little things slip your mind — like visiting your dentist in Fresno. Let's talk about why you should make sure to schedule a dental appointment before 2018 winds down to its end; you'll benefit both your smile and your wallet.
Insurance Expires at the End of the Year
Most dental insurance plans give their clients an annual maximum amount that they can spend on oral health treatments. Usually, the amount the insurance company is willing to pay out is between $1,000 and $1,500, though some policies offer an even higher annual maximum. Whatever portion of your allotment that you don't use by December 31 disappears forever. The vast majority of plans don't have a rollover provision that allows you to use leftover benefits in the following year.
Some people view their dental insurance as a backup plan in case something goes wrong with their teeth. However, that kind of thinking isn't good for a wallet or for an individual's smile. Consider: if you don't even use your benefits to attend regular checkups, you're spending hundreds of dollars each year for coverage and not getting anything back.
It is in your best interest to take advantage of your insurance plan to the extent possible. That doesn't mean you should use your coverage to get dental work you don't truly need, but you should be diligent about preventive care and not hesitate to get more extensive treatment done when circumstances call for it.
Get the Most Out of Your Insurance
How can you make sure you're getting your money's worth out of your insurance? Here are a few tips to help you out:
Schedule a checkup now. After an exam, your dentist will let you know if you need to have any restorative work done. If you do, you may be able to squeeze those treatments in by the end of the year.
Plan for major work. Some dental treatments take place across multiple appointments and cost thousands of dollars. You may be able to break such treatments up over two calendar years so you can use multiple annual maximums.
Review your policy. When you understand how your policy works, you'll be in a better position to get the most out of it.
Don't let your insurance go to waste! As the end of 2018 approaches, schedule an appointment with your dentist so you can maintain a healthy mouth and a happy budget.
About the Author
Dr. Byron Reintjes has been practicing dentistry since 1991. He loves to form positive relationships with his patients, and the last thing he wants is for them to feel stressed about paying for their treatment. Our team is happy to accept most major dental insurance plans. To learn more about our practice or to schedule your next appointment, contact us at 559-438-6684.
Comments Off

on Don't Lose Your Insurance Benefits! Visit the Dentist Before 2018 Ends
No Comments
No comments yet.
RSS feed for comments on this post.
Sorry, the comment form is closed at this time.