October 5, 2019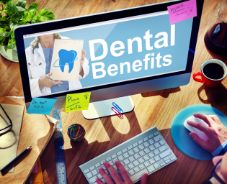 If someone told you there was an easy way to avoid losing $900 a year, you'd probably want to know more, right? Well, this blog is for you! The American Dental Association found that, while the average insurance benefit each year is $1,250 per person, most people only get around $300 of dental work (losing over $900). In this blog, you'll learn about the 4 ways that seeing a dentist in Fresno before the year ends can potentially save you a lot of money and improve your oral health at the same time!
1. You Won't Let Your Deductible Go To Waste
At the beginning of a new plan year, you have to pay your deductible all over again. If you've already paid it for this year, you may as well take advantage by scheduling any other necessary procedures. This way, you'll get the biggest discount on these services and save on your out-of-pocket costs by not having to pay your deductible a second time.
2. Prevention Always Costs Less
This applies in more ways than one. First, preventive services like checkups and cleanings are usually covered at 80%-100%, so they cost you little to no money. Second, routine care prevents small problems from turning into much larger issues. For example, a dentist can find a cavity before it's started causing pain and treat it with a simple, inexpensive filling. If you wait until your tooth hurts to come in, you may need a dental crown or even a root canal. In the long run, preventive care saves you a lot of time and money in the dental chair.
3. You'll Use (Instead of Lose) Your Yearly Maximum
Dental insurance is a "use it or lose it" situation. Your insurance company has allotted a certain amount of money (called a yearly maximum) that they'll pay for your dental work in a one-year period. This amount is usually between $700 and $1,500, which is quite a bit that could be used to improve your dental health (but only if you use it before your plan ends).
Most plans expire on December 31st, but it's a good idea to double check. From there, be sure to schedule your visits sooner rather than later to give yourself plenty of time to make any necessary appointments.
4. You Can Take Advantage of Lower Dental Fees
Unfortunately, inflation and rising costs are a part of life. Just like you pay more for groceries, rent, or utilities each year, dentists also pay more for staff wages, equipment, and materials. To meet these increasing costs, it's sometimes necessary for a dentist to raise their fees. By making sure to schedule your appointments this year instead of next, your dental work will be done at a lower cost.
With these 4 tips, you can be assured that you won't miss out on your insurance benefits in 2019. Not to mention that you'll have a healthier smile as well!
About the Author
Dr. Byron Reintjes is a family dentist in Fresno who loves providing high-quality dentistry to his community. He always encourages his patients to use their insurance benefits to the fullest to help them get the care they need as affordably as possible. If you have any questions about your dental insurance, you can reach Dr. Reintjes via his website.
Comments Off

on 4 Good Reasons To See a Dentist Before Your Dental Insurance Expires
No Comments
No comments yet.
RSS feed for comments on this post.
Sorry, the comment form is closed at this time.