August 26, 2018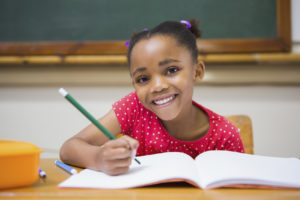 The countdown to the new school year has begun. As you prepare for your child to head back to the classroom, you are busy buying school supplies and finishing your "to do" list to get them ready for the big day. While you check each task off your list, you may be forgetting about one important thing—a healthy smile. Before the chaos of the new school year starts, now is the time to schedule your child's preventive appointment with their dentist in Fresno. With a cleaning and checkup before the end of summer, you will help to ensure that an unexpected dental complication does not interrupt their school year.

Back-to-School Cleaning and Checkup
As your child heads back to the classroom, your daily life is about to get chaotic. Between homework, after-school activities, and your daily responsibilities, there may not be the time in your day to schedule dental appointments. As a result, their routine visit may be placed on hold. This can lead to unexpected issues throughout the school year, like a toothache. To keep their smile healthy now is the time to schedule their preventive appointment.
In addition to brushing and flossing at home, the care your child receives from their Fresno dentist is equally important. Even with the best oral hygiene habits, there are still areas in their mouth that they cannot clean at home. Over time, plaque, tartar, and bacteria will accumulate in the hard-to-reach places, increasing their risk of tooth decay and gum disease. The only way to remove the buildup is with a professional cleaning.
Not only will their dentist clean and polish their teeth but also perform a comprehensive checkup. This allows them to monitor your child's oral health to detect any areas of concern while they are still small. With quick intervention, it lessens the need for a costly or invasive treatment in the future.
Give Your Child a Healthy Smile
Research shows that children who have poor oral health are 3 times more likely to miss school. In fact, it is estimated that one-third of elementary school absences are due to dental issues. With 1 in 7 children having experienced a toothache in the past 6 months, you can help to lower your child's risk for preventable school absences by scheduling their routine appointment today.
With a proactive approach to keep their smile healthy, you will reduce their risk of a dental emergency, like a toothache.
Schedule a Preventive Appointment Today!
As you get your child everything they need to start the new school year, ensure that a healthy smile is at the top of your priority list. Schedule their cleaning and checkup today!
About Dr. Byron L. Reintjes
Dr. Byron L. Reintjes believes that a healthy smile starts here. He caters to patients of all ages. With a focus on prevention, he will help to ensure that your child's smile stays healthy and beautiful. If they need an appointment before the new school year, contact our office today!
Comments Off

on Visit Your Dentist in Fresno for a Back-to-School Checkup
No Comments
No comments yet.
RSS feed for comments on this post.
Sorry, the comment form is closed at this time.