December 6, 2019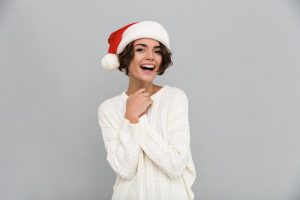 At long last, the holiday season is here. If you're not proud of the way your smile looks, you might dread this time of year. Family and friends will not only be seeing you for the first time in a while, but they will likely want to take pictures. The idea of your dental imperfections living forever in a photo is enough to make you break out in a cold sweat. Luckily, your cosmetic dentist in Fresno is here to help. Here are four ways to get your smile photo-ready just in time for the holidays.
I Have Too Many Smile Flaws to Count
Maybe you have so many aesthetic problems in your smile that you don't even know where to start treating them. It sounds like you might be a good candidate for porcelain veneers. These ultra-thin porcelain coverings can be placed over your teeth in just two quick appointments. Essentially, veneers allow you to press the reset button on your smile, since they mask pretty much any cosmetic imperfection you could have. In fact, many movie stars use porcelain veneers to improve their smiles. That's something you could have in common with lots of celebrities!
I Don't Want Metal in My Smile
If you have a severely decayed or damaged tooth that needs more than just a filling to correct, you might be a candidate for a dental crown. In the old days, those words were enough to strike fear into your heart, because noticeable metal crowns were the only option. These days, however, your dentist in Fresno offers metal-free restorations. Made of materials like porcelain and ceramic, these crowns, inlays, and onlays blend right in with your natural smile.
I Have Chipped or Gapped Teeth
Crowns and veneers can fix chips or gaps in your smile, but maybe you want a cheaper and faster option. That's where direct bonding comes in. Your dentist can use a highly malleable composite resin (the same material used in tooth-colored fillings) to add to your tooth until it's the desired shape. Bonding is a significantly more affordable and less invasive alternative to porcelain veneers and can be completed in just one appointment with no anesthesia required.
My Teeth Are Too Yellow
If you're panicking about your discolored teeth standing out in pictures this holiday season, don't worry. That's why your dentist offers professional in-office teeth whitening. With just one hour-long visit to the office, your pearly whites can shine up to eight shades brighter just in time for family photos. Your dentist also offers incredibly potent take-home whitening kits if you would prefer to achieve more gradual results.
If you feel like your smile isn't ready for all the holiday photos, ask your cosmetic dentist about any of these treatments. They can improve your smile all year round, not just during the holidays!
About the Author
Dr. Byron Reintjes is a dentist in Fresno who has been helping his patients smile brighter since 1991. He achieved his dental degree at the Case Western Reserve University's School of Dentistry. Following that, he completed a one-year hospital-based dental residency and has also undergone advanced training in orthodontics and Invisalign. To help your smile get ready for the holiday season, visit Dr. Reintjes' website here.
Comments Off

on 4 Ways to Get a Perfect Smile Just in Time for the Holidays
No Comments
No comments yet.
RSS feed for comments on this post.
Sorry, the comment form is closed at this time.