January 21, 2020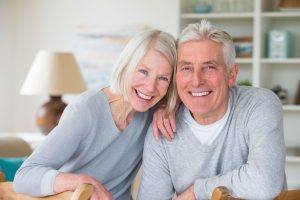 As you get older, your body starts going through all sorts of changes. Your senses of hearing and taste may begin to diminish, your hair gets grayer, and your memory isn't always as reliable as it used to be. But did you know that your teeth change too as you age? Unfortunately, these changes usually aren't for the best. Your teeth and jawbone generally become weaker as you age, leading to all sorts of dental problems. Luckily, a cosmetic dentist in Fresno has plenty of treatment options available to make your smile look and feel young again.
Your Teeth Become Yellower as You Age
Teeth come in many layers, the outermost of which is the enamel. This is what gives teeth their signature white color. As you get older, however, the enamel naturally wears thin, exposing the underlying layer of dentin. Dentin is closer to yellow than white, giving the teeth a discolored appearance when the enamel erodes.
This problem is easily remedied with a variety of treatments from your dentist in Fresno, such as:
Teeth Whitening
Maybe you've tried over-the-counter whitening strips and toothpastes, but they didn't provide the results you were looking for. That's why most dentists offer whitening treatment that's significantly stronger than the gels and kits you can find at your local drugstore. Professional teeth whitening usually comes in two forms: in-office treatment that brightens your smile in just an hour, and take-home trays and gel that deliver more gradual results.
Porcelain Veneers
If your teeth are healthy except for their discoloration, or if they have minor flaws like chips and cracks, you could opt for a much longer-lasting solution than teeth whitening: porcelain veneers. These super-thin ceramic shells are attached to the front surfaces of your tooth to mask all kinds of cosmetic imperfections in one simple treatment.
Direct Bonding
Perhaps you have small stains on your teeth, but don't want a permanent treatment like veneers. In this case, your dentist can apply direct bonding. A tooth-colored, putty-like composite resin material is applied to your tooth to sculpt it into the desired size, shape, and shade. This quick and affordable procedure can correct dental stains in no time.
As You Get Older, Your Teeth Shift Around
As mentioned earlier, your jawbone weakens with age, resulting in teeth that are not as firmly supported. They then shift around and become crooked. Luckily, there exists a way of straightening your teeth without using metal braces – Invisalign.
Invisalign consists of clear plastic aligner trays that gradually shift your pearly whites into the desired aligned position, often in less time than traditional braces. Additionally, they are much more comfortable and discreet. Unless you go talking about how easy Invisalign is, no one even has to know you're currently undergoing orthodontic treatment!
About the Author
Dr. Byron Reintjes achieved his doctorate in dentistry from Case Western Reserve University and has been helping patients in the Fresno, CA community smile brighter since 1991! He has undergone advanced training in orthodontics, including Invisalign. In addition, he is passionate about helping patients feel prouder of their smiles, which can easily be done through cosmetic dentistry. If you have an aging smile you'd like to correct, click here to visit Dr. Reintjes' website.
Comments Off

on How Cosmetic Dentistry Can Help an Aging Smile
No Comments
No comments yet.
RSS feed for comments on this post.
Sorry, the comment form is closed at this time.