February 7, 2021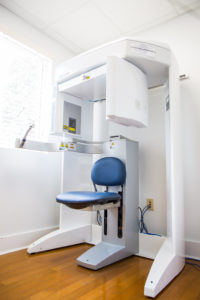 Just two short decades ago, cell phones still flipped open and were used more for phone calls and texts than surfing the web. Nowadays, almost everyone has a smartphone in their pocket or purse!
Technology is developing in leaps and bounds – and not just for cell phones. Dental technology has also advanced a lot in recent years. For example, new state-of-the-art X-ray equipment makes planning and placing dental implants easier and more successful than ever!
Keep reading to learn how CT/Cone Beam Scanners are improving the dental implant process and why you should choose a dentist in Fresno that utilizes this state-of-the-art dental technology.
What Is a CT/Cone Beam Scanner?
A CT/Cone Beam Scanner is an advanced X-ray machine that can generate detailed 3-D images of your teeth, jawbone, sinuses, and facial nerves.
The scanner works by slowly moving a cone-shaped X-ray beam around your head, jaw, and mouth. As the CT/Cone Beam Scanner rotates, it captures a large number of high-quality images. Your dentist then uses a software program to convert these images into a single, 3-D rendering of your mouth and surrounding oral structures.
Completely noninvasive and pain-free, a CT/Cone Beam scan can typically be completed in just a matter of seconds!
How Does a CT/Cone Beam Scanner in Fresno Help with Dental Implants?
Dental implants provide outstanding support to artificial teeth by integrating directly with the jawbone. That is why it is critical for your dentist to be able to accurately evaluate your jawbone density, height and width.
The detailed 3-D images produced by a CT/Cone Beam Scanner in Fresno give your dentist valuable information about your teeth and jaw. Using this information, your dentist can create an individualized surgical guide that will ensure your dental implants are the perfect size for your unique smile.
A custom treatment plan designed with the assistance of CT/Cone Beam scanning technology can help increase the likelihood that your implant treatment process is a success!
The Benefits of Dental Implants
As the only tooth replacement solution that restores teeth from the roots up, dental implants offer many advantages that more traditional alternatives do not. Here are just a few of the many benefits of dental implants in Fresno:
Natural Appearance – Implant restorations are custom-designed to blend in with your natural smile.
Maximum Support – Dental implants provide nearly the same chewing power as natural teeth, which means you can continue to eat all your favorite foods without worry!
Preserve Healthy Teeth – Unlike conventional bridges, dental implants do not rely on adjacent healthy teeth to remain in place.
Long-Lasting Results – With proper care, dental implants can last for decades – perhaps even the rest of your life!
Are you tired of living with an incomplete smile? Dental implants may be the perfect solution to restore your teeth and your confidence. Ask your dentist in Fresno today if they use Cone Beam CT scanning technology to help place dental implants!
About the Author
Dr. Byron Reintjes has nearly three decades of experience helping Fresno residents restore their smiles. He has undergone advanced training in orthodontics and uses a CT/Cone Beam Scanner to create custom implant treatment plans. To learn more about dental implants in Fresno, visit Dr. Reintjes' website or call 559-438-6684.
Comments Off

on How a Cone Beam Scanner Helps Deliver Dental Implant Success
No Comments
No comments yet.
RSS feed for comments on this post.
Sorry, the comment form is closed at this time.