July 12, 2019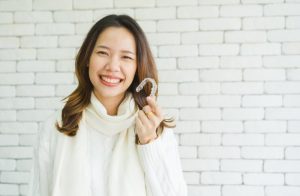 You're excited to finally have Invisalign to straighten your crooked smile. You've been wearing your aligners for a few days when you notice you have a persistent bad taste in your mouth. People subtly wrinkle their nose when they get close to you. You begin to realize that maybe your breath doesn't smell as great as it should. How can you solve this problem? Cleaning your aligners would be a great place to start. Here are 5 easy ways to clean your Invisalign in Fresno.
1. Soap and Water
Pour a pinch of liquid soap into a cup of warm water and mix to form suds. Be sure the water is lukewarm and not hot, as hot water could warp the plastic of your aligners and compromise your treatment. Soak your aligners in this mixture for 20-30 minutes and then rinse them off. Do this every day and your bad breath should be a thing of the past.
2. Peroxide and Water
Create a solution of equal parts warm water and hydrogen peroxide, and then soak your aligners in that for about half an hour. The bubbles will dissolve any particles on the aligners that are causing bad breath.
3. Vinegar and Water
For this solution, mix 1 part white vinegar with 3 parts lukewarm water. Soak your aligners for about 20 minutes, then rinse them off with cool water. When you reinsert your aligners afterwards, your mouth should feel nice and fresh.
4. Baking Soda and Water
You'll need to let your aligners soak for an hour in this mixture. Put a tablespoon of baking soda with a half cup of water. This solution can be used to clean everything from dirty running shoes to the grout of your shower floor, so you can trust that it will remove particles that cause bad breath from your aligners.
5. Retainer Cleaner
Your aligners are similar to a retainer, so something designed to clean a retainer should work just as well. Drop one tablet of retainer cleaner into a cup of warm water and let your aligners soak in there for about 20 minutes. Afterwards, thoroughly rinse your aligners before popping them back in your mouth. People will no longer wrinkle their nose at your breath.
Keeping your aligners clean doesn't have to be hard when you have this many options. If you have more questions, or want to see if Invisalign is right for you, contact your dentist in Fresno.
About the Author
Dr. Byron Reintjes has been helping patients in the Fresno, CA community achieve better and brighter smiles for almost 30 years now. he has undergone advanced training in orthodontics and is certified in Invisalign to help give you the straight smile you've always wanted. To learn more about Invisalign, contact Dr. Reintjes at (559)-438-6684.
Comments Off

on 5 Ways to Keep Your Invisalign in Fresno Clean
No Comments
No comments yet.
RSS feed for comments on this post.
Sorry, the comment form is closed at this time.