May 21, 2019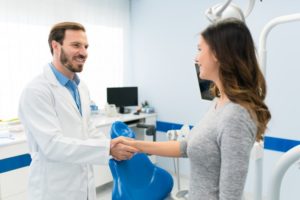 You've just moved to Fresno, and it's just about time for your dental checkup; your old dentist was great, but obviously you need to find someone closer to your new home. You've asked your new neighbors and coworkers if they know anybody, but so far you've got a list of different names with no clear way to narrow the field. How do you know who to trust with your oral health? It can be tough to know before scheduling an appointment, but here are some things to think about when searching for a dentist in Fresno.
Will This Dentist Take My Insurance?
The first question to answer, of course, is "Can I afford to see this dentist?" Call the office to ask whether they'll accept your dental insurance plan; many times, the answer is yes, but you should make absolutely sure beforehand. If you don't have insurance, ask about financing services and learn if the payment plans offered by the practice will work based on your needs.
What Services Does the Practice Offer?
Naturally, you'll be looking for your new dentist to provide preventive care, but what about other services? What kinds of restorative dentistry do they offer in case of a broken tooth? If you want to make cosmetic changes to your teeth, what options do they have? Are they using advanced technologies such as digital X-rays or intraoral cameras? Do they offer orthodontal work, or are you going to need to see a separate orthodontist for that?
Be sure to see if the practice offers services for special kinds of patients, such as sedation dentistry for dental anxiety. Some dentists even assist with conditions such as sleep apnea, a potentially serious sleeping disorder that can often be corrected with an oral appliance. Think about your unique needs and keep them in mind when browsing for a dentist; the more services they offer, the better.
What is the Dentist's Office Like?
Does the practice offer an open, friendly environment? Will the dentist give you a long list of technical jargon, or will they take the time to make sure you understand? Are the staff members courteous when you call with questions? See what you can gather about the office environment and whether you'd be comfortable receiving treatment there.
Is the Practice Family Friendly?
If you have children, it's important to find a dentist you can trust with their teeth as well as your own. Check to learn about what services they offer specifically for children.
It can be nerve-wracking to choose a new dentist, but oftentimes you can learn all you need to know by visiting a practice's website or calling their office. Don't be afraid to ask questions; your Fresno dentist will be your partner in protecting your oral health, so find one you can trust to cover the needs of your unique smile.
About the Author
Dr. Byron Reintjes has been practicing dentistry in Fresno for 28 years and offer a wide variety of services. He loves interacting with patients and using advanced dental technology; he believes that he can always learn more and grow as a dentist. His hospital-based dental residency emphasized trauma care, and he has received advanced training in orthodontics and Invisalign. To learn more about his practice, visit his website or call (559) 438-6684.
Comments Off

on How to Find the Dentist in Fresno That's Right For You
No Comments
No comments yet.
RSS feed for comments on this post.
Sorry, the comment form is closed at this time.