September 4, 2022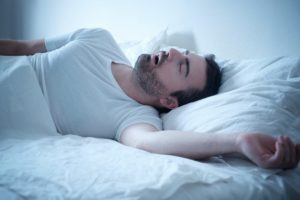 If you wake up most mornings feeling exhausted, sluggish, and desperate to fall back asleep, there's a reasonable chance that you're suffering from sleep apnea; after all, millions of US adults lose out on sleep every night because of the condition. But did you know that drinking alcohol right before bedtime can actually make your sleep apnea worse? Here's more from your dentist in Fresno about this link and some tips for falling asleep without relying on a nightcap.
What Causes Sleep Apnea?
Even though roughly 20% of all Americans suffer from obstructive sleep apnea (OSA), only about half of these patients have actually received a diagnosis and followed it up with treatment. But sleep apnea is not something that should be ignored! During an episode, your air passage significantly tightens and interrupts your body's natural breathing pattern. This causes you to wake up in order to stabilize your breathing, which can make it difficult for you to quickly fall back asleep afterwards. Since this can happen frequently, that lost time quickly begins to add up. And adding alcohol into the equation only makes things more difficult for your body.
How Does Alcohol Impact Sleep Apnea?
Studies show that moderate or heavy drinking can cause obstructive sleep apnea in people who previously weren't affected by the condition. This is because alcohol naturally decreases your body's drive to breathe, which is already a major issue if you have sleep apnea. When you drink, your breathing becomes shallower and slower, and your throat muscles become more relaxed. This can trigger the collapse of your airway and also contributes to snoring, which is the most commonly associated symptom with sleep apnea.
Tips for Getting a Better Night's Rest
If sleep apnea is preventing you from getting quality rest every night, here are tips you can implement to help—and none of them involve alcohol! Consider the following:
Ensure that your body is adequately hydrated before bedtime.
Maintain a soothing and stress-free evening routine.
Try to consistently go to bed at the same time every night.
Maintain a cool and dark environment and sleep on breathable materials.
Seek a sleep apnea diagnosis so you can begin receiving professional treatment for your condition.
If you struggle to fall asleep at night, it's best to abstain from alcohol use before bed—the complications it can cause are simply not worth the risk! Instead, speak with your dentist about sleep apnea treatment so you can get back to feeling fully recharged every morning.
About the Author
Dr. Byron Reintjes has served the dental needs of the Fresno area for over 30 years and counting! Dr. Reintjes received his DDS from the Case Western Reserve University School of Dentistry and has taken countless hours of continuing education in a wide range of fields. His practice is proud to offer many available services including sleep apnea treatment. If you have any questions about sleep apnea, feel free to contact Dr. Reintjes through his practice's website or over the phone for assistance: (559) 438-6684.
Comments Off

on Can Drinking Alcohol Impact My Sleep Apnea?
No Comments
No comments yet.
RSS feed for comments on this post.
Sorry, the comment form is closed at this time.