March 1, 2023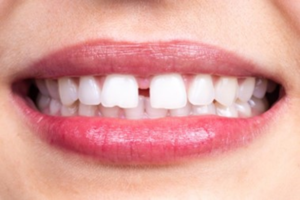 Your smile is the first feature that strangers will notice about you—so if you're suffering from an aesthetic issue such as a gap between your two front teeth, you're probably wondering if there's anything that can be done about it. These issues, referred to as diastemas, might not always seem serious, but there's no doubt that being affected by one can make you feel insecure or embarrassed about your grin. Fortunately, your cosmetic dentist in Fresno can help you out! Keep reading to learn more.
What Is a Diastema?
A diastema is simply a gap between the teeth; it's not painful by any means, and given how common the issue is in youngsters, it's considered a normal developmental circumstance in children. Technically, a gap is considered a diastema when it's larger than 0.5 millimeters, and it can also develop between any two teeth—not just the front ones. It's also not something that's guaranteed to resolve on its own; however, the gap can sometimes close when a child's permanent teeth begin emerging.
Diastemas have several potential causes, including but not limited to:
Missing or undersized teeth
Loss of primary (baby) teeth
The size of the teeth in relation to the jaw
Untreated gum disease
Incorrect swallowing reflex
Oversized labial frenum (the tissue that extends from the upper lip to the gum above the upper front teeth)
Poor oral habits such as smoking or biting into hard objects
How Are Diastemas Treated?
Diagnosis of a diastema is incredibly straightforward; the dentist can simply spot the gap during a standard oral examination. Treatment for a diastema isn't always necessary, especially if it's the result of a mismatch between the size of the teeth and the jawbone, or if it results from the loss of baby teeth.
That said, it's still something that you should look into getting treated; having a diastema can actually increase your risk of plaque buildup and enamel erosion, and if it's linked to untreated gum disease, your whole mouth is at risk without proper care!
There are various ways to treat diastemas, and while it will always depend on the patient's circumstances, many options over the years have proven quite effective when it comes to closing these gaps. Orthodontic solutions like braces are often used, but as an alternative, veneers or even dental bonding can also be utilized. If the diastema exists due to missing teeth, more complex solutions such as a bridge, denture, or implant might be required. If gum disease is the root of the issue, periodontal therapy can be employed. And in the case of an oversized labial frenum, surgery might be needed.
About the Author
Dr. Byron L. Reintjes feels honored to serve the dental needs of patients and families in the Fresno, CA area, and he hopes you'll trust him with your smile's wellbeing! Dr. Reintjes received his DDS from the Case Western Reserve University School of Dentistry and has undergone advanced training in various fields, including orthodontics and Invisalign. His practice offers a wide range of preventive, cosmetic, and restorative treatment options. If you have any questions about the article or would like to schedule a visit for you or a loved one, you can contact his practice online or over the phone for assistance: (559) 206-3719.
Comments Off

on Can a Gap Between My Two Front Teeth Be Treated?
No Comments
No comments yet.
RSS feed for comments on this post.
Sorry, the comment form is closed at this time.