April 2, 2020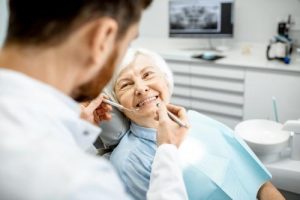 Imagine that you're in your kitchen preparing your favorite meal. It's been a long time since you've treated yourself in that way. You sit down to eat and suddenly realize that something is wrong with your dentures. Regardless of how careful you are with them, dentures may occasionally have issues, crack, or break outright. The first thing you should do in this scenario is contact your dentist to fix your dentures in Fresno. Once you've set an appointment, you can consult our list of dos and don'ts to ensure the best possible outcome.
Let a Professional Do It
It can be tempting at first to attempt an at-home repair of your broken dentures, especially during quarantine. However, dentures are more complex than they seem and need to be adjusted specifically for your mouth and facial structure.
Trying to fix even the smallest crack or break in your dentures can result in the entire unit being compromised. This would cost you more time and money in the long run. Instead:
Call your dentist right away! Even during quarantine, most dentists are still open to see emergency patients and work hard to make sure you're seen as quickly as possible.
Stop wearing them. Not only can continuing to wear them cause new breakage but it also can even harm your mouth as well. Collect anything that may have broken off and keep all of the pieces together, but don't put them in your mouth.
While there are at-home repair kits for sale, they are not designed with your specific dentures and needs in mind. Each person's dentures are as individual as they are. It's not worth the time and potential damage to attempt a repair without a dental professional.
Denture Emergencies While Social Distancing
If you are reading this during the COVID-19 pandemic, you know how important it is to limit social contact. This is especially a concern for older patients. In emergencies such as these, many dentists are taking extra-special care to make their offices the absolute safest places possible.
From only seeing emergencies to keeping even stricter disinfectant and hygiene standards, they will ensure that you have the safest visit possible while still maintaining the excellent standard of care you've come to expect.
About the Author
Dr. Byron Reintjes has been working in the field of restorative dentistry in Fresno since 1991. His unique path in dentistry has had a tremendous scope, from his one-year residency treating dental trauma in hospitals to undergoing additional, advanced training in various fields of dentistry. His greatest pride is providing a patient with a beautiful smile, not stopping until it's done the right way, and continuing to give them personalized care. From dentures and partials to cosmetic cases and simple toothaches, contact him and his team with any dental emergency or call his office at (559) 206-3719.
Comments Off

on I Need to Eat! What to Do with Damaged Dentures in Fresno
No Comments
No comments yet.
RSS feed for comments on this post.
Sorry, the comment form is closed at this time.