December 22, 2019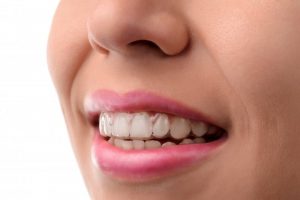 When it comes to correcting a poor bite, Invisalign in Fresno provides a convenient and reliable alternative to traditional braces. While they're known for their aesthetic benefits, there are several other advantages that the clear aligners offer. As you continue reading, a local dentist lists 5 non-cosmetic reasons to choose Invisalign to fix your teeth!
What are Invisalign Aligners?
Although Invisalign aligners and traditional braces are both viable ways of correcting bite issues, the procedures are quite different. Instead of cumbersome wires and brackets, the Invisalign method uses BPA-free clear plastic aligners that are custom-crafted by your dentist to gradually straighten your teeth. A smile plan is sent to a certified Invisalign lab that will fabricate the aligners to your dentist's specifications, and when they arrive, you'll be invited to retrieve the entire set.
Your dentist will instruct you to wear each set of aligners for 22 hours daily to ensure that you make progress on schedule and that you don't regress. You'll usually wear each set for one to two weeks and then exchange it for the next pair in the series, following this pattern until the treatment concludes.
While Invisalign is still fairly new in comparison to traditional braces, it offers patients some intriguing benefits.
#1 – Time Saving
With traditional braces, you can typically expect treatment to take at least 24 months to complete. While each patient's situation is different, on average, bite correction with Invisalign can be completed in as little as a year.
#2 – Precise Treatment
During the planning phase of Invisalign, your dentist will take 3D scans of your mouth to map the movement of your teeth. This will be used to craft a smile plan that fits your specific needs, and to pinpoint how long you'll need to wear your aligners.
#3 – Better Oral Hygiene
It can be a challenge to perform oral hygiene while wearing braces because of the brackets and wires. You don't have to worry about this challenge with Invisalign, because the aligners are completely removable. Thus, you can maintain your normal routine of brushing and flossing.
#4 – Food Enjoyment
Being able to eat the foods you love is one of the simple pleasures that makes life fun. People who wear braces will have to endure some restrictions in what they can consume, but that's not the case with Invisalign, as you'll be free to maintain your regular diet.
#5 – Convenience
A significant part of the traditional braces process is visiting your dentist every four weeks for adjustments. When you visit for an Invisalign checkup, though, you can expect to be in-and-out much quicker since there will be no need for an adjustment.
To learn more about what you stand to gain by choosing Invisalign to fix your teeth, reach out to your dentist in Fresno to schedule a visit. A brand-new smile and life await you!
About the Author
Dr. Byron L. Reintjes earned his dental degree from the Case Western Reserve University School of Dentistry. He has additionally received advanced training in orthodontics and Invisalign. Dr. Reintjes straightens his patients' teeth with Invisalign at his private practice, and he can be reached for more information through his website.
Comments Off

on 5 Non-Cosmetic Reasons to Choose Invisalign to Fix Your Teeth
No Comments
No comments yet.
RSS feed for comments on this post.
Sorry, the comment form is closed at this time.