August 26, 2019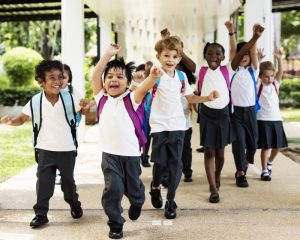 Back-to-school season can be overwhelming, but being well-prepared for the first day can make the rest of the year less chaotic. Getting your little one's healthcare needs taken care of sooner rather than later can keep them from missing class and experiencing discomfort. Move their semi-annual checkup and cleaning with their dentist in Fresno to the top of your to-do list so they can stay focused on reading and science instead of a pesky toothache. Read on for four reasons it's best to schedule the appointment before they hit their books.
Keep Them Focused on Academics
Before your child can focus in class, they need their base needs to be met. This includes necessary preventive care to tackle distracting problems from developing during the school year. A toothache or uncomfortable sensitivity can cause your child to miss class to visit their Fresno dentist. This can cause both of you to need to play catchup for the rest of the week. Plus, when small issues are left to progress into severe ones, the discomfort may cause your little one to lose sleep. The best way to avoid dental dilemmas during the school year is to get them the preventive care before it starts.
Their New Oral Hygiene Routine
During summer break, your son or daughter's daily routine is less packed. With no homework, field trips, or upcoming projects to worry about, they have more time to dedicate to their oral hygiene routine and aren't as exhausted at the end of the day. During the school year, an entire day of exercising their mind can be draining, causing them to want to come home, get their assignments out of the way, and go to bed. Starting the year off with a pep talk from their dentist can remind them of the importance of taking care of their pearly whites and keeping up with brushing and flossing.
A Clean Bill of Health For Peace of Mind
As a parent, there's nothing more important to you than your child's overall wellbeing. When you take them to get their checkup and cleaning, you'll be able to get peace of mind that they're healthy and happy. Plus, their dentist will be able to spot and treat issues that may impact their everyday life like tongue ties, teeth grinding, and bite issues.
Impressive Smile For Picture Day
Looking back on old yearbook photos when your little one gets older will be more enjoyable when they've got a bright, clean, and healthy smile that they won't be afraid to show off. You can refresh their mouth with a professional cleaning from their dentist to boost their confidence!
While the back-to-school season is chaotic, squeezing in necessary health checkups before the year begins can save you from having to deal with stressful situations and headaches down the road when your schedule is busier. Start your child's year off fresh by taking care of any issues before they turn into something more severe.
About the Author
Dr. Byron Reintjes has been improving families' smiles in Fresno since 1991. He completed an additional one-year residency for trauma care as well as advanced training in orthodontics and Invisalign. He is passionate about providing parents and little ones with the knowledge and treatment they need to keep their teeth and gums happy and healthy. For questions or to schedule a routine checkup and cleaning, visit his website or call 559-438-6684.
Comments Off

on 4 Benefits of Taking Your Child to See Their Dentist Before School Starts
No Comments
No comments yet.
RSS feed for comments on this post.
Sorry, the comment form is closed at this time.