February 26, 2019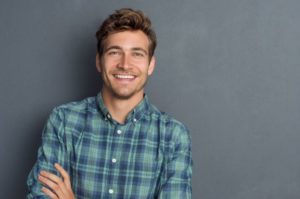 Are you looking for a way to achieve better health? A growing body of evidence shows a clear correlation between the condition of a person's teeth and gums and their general well-being. This gives you more reason than ever to see your Fresno dentist for regular exams and cleanings. Otherwise you're robbing yourself of wellness benefits you might otherwise enjoy.
The Crucial Link between Dental Health, Mental Happiness, and Physical Fitness
Your teeth and gums not only help you to digest food, they play a key role in protecting the rest of your body from disease. But they can only perform this important duty when they're strong and healthy. This is why regular dental hygiene is so important. When you neglect your oral health, it encourages disease-causing microorganisms permission to spread throughout your entire system.
Researchers have been studying the link between these two factors for decades. Here are some of the findings they've uncovered:
Those who suffer from tooth decay and gum disease are more likely to be overweight, develop diabetes, experience heart problems, and struggle with anxiety or depression. On the other hand, people with good dental health enjoy higher levels of physical fitness, happiness, and energy.
Certain health conditions can make caring for your teeth and gums more challenging. For example, evidence indicates that diabetics are at greater risk of developing cavities that non-diabetics. This means that people with this condition should exercise special care when it comes to brushing and flossing.
The more attention you give to caring for one part of your body, the more likely you are to keep the rest of it in shape. It seems that one good habit encourages another.
The take away from these facts is clear: where your teeth lead, the rest of your body follows. With this in mind, let's look at four important habits all of us should cultivate.
Four Things to Remember When It Comes to Your Teeth and Gums
Mastering any skill comes down to practicing the basics. When it comes to your dental health, you should follow these four tips:
Use the "2 x 2 rule" for brushing your teeth. This means brushing at least twice a day for two full minutes each time. When we get in a hurry, we're more likely to miss spots where plaque and tartar are building up.
Remember to clean between your teeth as well. The easiest way to do this is simply by flossing. Floss string comes in a variety of widths and in both waxed and un-waxed versions. If you dislike flossing, then you might want to use a water stream flosser or interdental toothbrush instead.
Eat a wide variety of healthy foods. Your body needs the right nutrition in order to function properly. This means getting plenty of protein, monounsaturated and polyunsaturated (rather than saturated) fats, complex carbs, fiber, and vitamins and minerals.
See your dentist in Fresno twice a year. This is important for two reasons: first, it enables your dentist to check for potentially serious health conditions. Second, it allows a trained dental professional to give your teeth and gums a thorough cleaning. If you don't currently have a regular dentist, then do an online search for the term "dentist near me" to find a list of offices in your area.
Healthy teeth and gums are essential for living a happy, healthy life. Use the tips in this post to take better care of these important parts of your body. The results will give you plenty of reasons to smile.
About the Author
Dr. Byron Reintjes been practicing dentistry for more than 25 years. A skilled general dentist, he has completed advanced training in Invisalign therapy and orthodontics. You can reach his office online or by calling (559) 206-3719.
Comments Off

on Healthy Teeth, Healthy Body: a Fresno Dentist Explains the Connection
No Comments
No comments yet.
RSS feed for comments on this post.
Sorry, the comment form is closed at this time.